Find out how to get to paradise for less and stay there on the cheap, too.
Vancouverites looking to add a breathtaking new destination to their holiday wish list have a new option with direct airfare.
Fiji Airways will commence its direct flights from Vancouver International Airport (YVR) to Nadi International Airport (NAN) this fall, with the first flight departing on Nov. 25.
The service is the first nonstop option for locals looking to travel to the popular South Pacific country, which saw over 70,000 new visitors in August. It also offers an alternative to busy tropical island destinations, such as Hawaii and Tahiti, which are more popular routes with Canadian travellers. 
Nadi is a town on Fiji's largest island, Viti Levu. The capital and largest city, Suva, is also located on the big island. But with 333 remote tropical islands, visitors will discover plenty of crystal-clear waters, white sand beaches, plenty of sunshine, and an array of activities.
Currently, the cheapest direct options with Fiji Airways depart YVR in March 2023. For example, the itinerary below shows a flight that leaves Vancouver on Mar. 24 and returns on Apr 7 and costs C$1,273 including all taxes and fees.
A search using Google Flights price calendar will show that there are some options departing YVR in November that cost around C$1,300 CAD, but they involve a couple of stops with other carriers. 

Discover a tropical paradise with direct Vancouver flights via Fiji Airways
Since it's an island destination, many of Fiji's most popular activities include swimming, snorkeling, surfing, sailing, scuba diving, stand-up paddle boarding, river rafting, and ocean kayaking. In fact, the county is also known as the the "Soft Coral Capital of the World," which makes underwater exploration a diver's dream. 
But visitors will also find a wealth of fascinating places to explore on land. For one, Fiji has a rich history that dates back thousands of years, with "archaeological digs uncovering pottery shards dating back over 2,600 years," according to the Culture Trip. 
Historophiles can explore the Naag Mandir Temple in Labasa on the island Vanua Levu. The Hindu temple is home to a sacred Cobra Rock that locals believe can cure the sick and infertile. Draped in garlands of flowers and other offerings, locals also say that the rock grows and "the roof has had to be raised four times since the 1950s," according to Lonely Planet. 
Located in its capital city on the big island, Fiji Museum is also a fantastic place to explore the island country's diverse and expansive history. It also houses "archaeological finds dating over 3,700 years and indigenous, South Pacific and Fijian artifacts from the 1800s," according to Tourism Fiji.
Hiking is also popular in Fiji. Outdoor enthusiasts can tackle multi-day hikes across the big island's magnificent Suncoast with companies like Talanoa Treks. The big island is also home to the awe-inspiring Sigatoka Sand Dunes, which are located one of in the country's few national parks. These impressive national formations range from 20 to 60 meters tall and formed over thousands of years; the park is also a designated UNESCO world heritage site.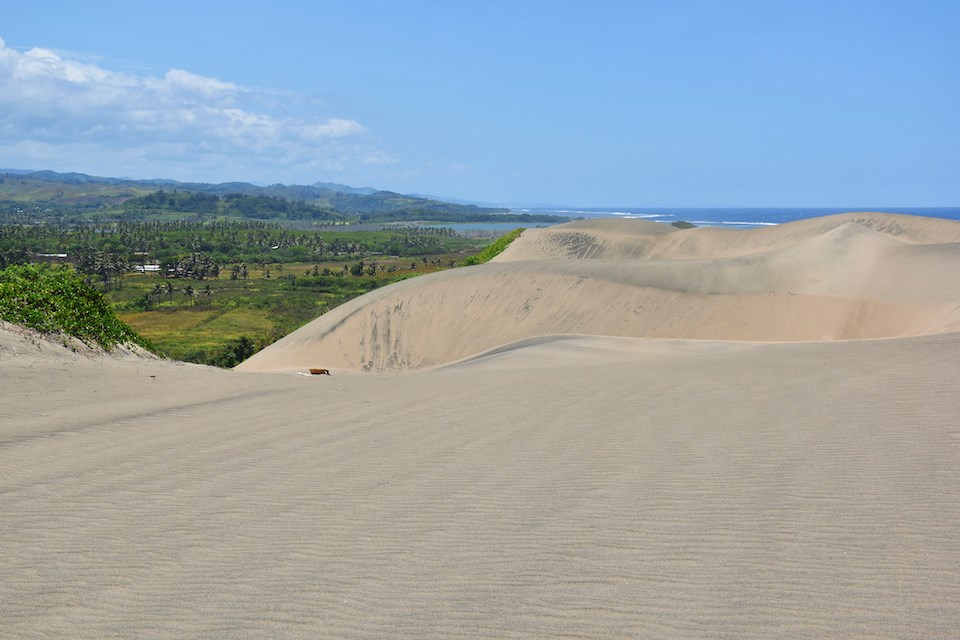 Discover Fiji on a budget or indulge in an ultra-luxurious escape 
While you might imagine Fijian holidays consist of posh beach resorts costing big bucks, many travellers backpack their way across the paradisaical destination. Indeed, many of the islands offer affordable accommodations, and meals at low-cost eateries or street vendors can be had for under $10. 
After landing in Nadi there are several low-cost hotels and accommodations close to the airport. For example there's the Bamboo Travellers Hotel and the Rainforest Eco Lodge advertising rates of $C25 per night. Of course, these options might not include what you are looking for in terms of comfort, so bear in mind that; you'll want to gauge what kind of holiday you are hoping to have versus the property's ratings, amenities, location, and so forth.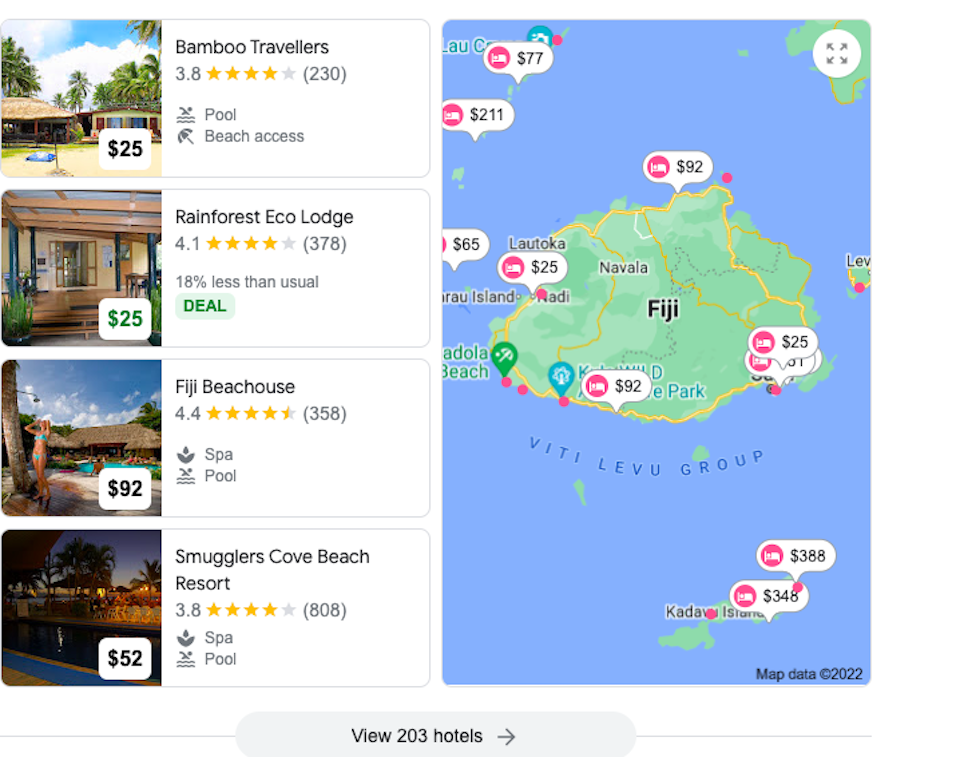 At the other end of the spectrum, travellers hoping to spare no expense on their Fijian holiday won't have trouble finding high-caliber experiences in the bucket-list destination. 
For instance, Vomo Island, a stunning 225-acre private island paradise, offers some of South Pacific's most breathtaking spots. Travellers can enjoy scuba diving at the PADI 5-star dive resort, where guests can arrive with no previous experience and leave with a full scuba diving certification. They can also snorkel with manta rays in the Yasawa islands (between May and October).
Other experiences include the Fliteboard — a type of kite-surfing with clean-powered motor propulsion — and other popular activities such as sport fishing, golfing, island trekking, and surfing.

https://www.vancouverisawesome.com/travel/google-flights-vancouver-yvr-fiji-nadi-destination-6011018