If you're traveling to Turkey, you most likely want to do it in style. Here, we cover the best places to stay, luxury tourism places in Turkey, and transportation.
Let's take a look at luxury travel in Turkey:
What Are The Most Luxurious Places To Stay In Turkey?
If you want luxury travel, Turkey has many hotels offering just that. The top 10 luxury places to stay in Turkey are:
Mandarin Oriental Bodrum
This exceptional 6-star resort will entice even the most discerning traveler with its idyllic location in Bodrum's secluded Paradise Bay, two private beaches, a variety of fabulous gourmet restaurants, a world-class spa, and a choice of stylish rooms, suites, and villas. It also invites you to sit back, relax, and savor the moment.
So stop looking if you're in need of a lavish beach vacation in the Mediterranean region because this is the most exclusive escape you can think of!
The Bodrum By Paramount Hotels And Resorts
The remarkable "The Bodrum" hotel is set in the breathtaking Zeytinlikahve Cove along the magnificent Bodrum coast with the Aegean Sea as its outlook.
The resort is the ultimate paradise for fans of perfection, indulgence, and superlative pleasure, with accommodations made up only of lavish suites and extravagant villas, a private beach, and a variety of the best wining, dining, and entertainment options available. Although not everyone may enjoy the opulent design, the amenities and views scream luxury travel.
St Regis Istanbul
The magnificent St. Regis Istanbul is located in the elite Nisantasi neighborhood, surrounded by dining, shopping, art, and entertainment options. A secluded rooftop terrace restaurant and an eccentric French brasserie are the establishment's two signature eateries.
The hotel's 118 opulent rooms, including 10 suites, one of which was created by Bentley; all exude a distinct identity of discreet grandeur, classic elegance, and arresting grace.
Argos In Cappadocia
Argos in Cappadocia has painstakingly restored the remnants of historic homes, underground tunnels, and caves to offer guests an unrivaled place to stay and a singular perspective from which to view this magical land. It is situated in the heart of Cappadocia on the site of an ancient monastery in Old Uçhisar Village.
The hotel offers a wide range of accommodations in 6 different houses, each with a distinctive design and some with private subterranean pools. In addition, with its tall domes, the former linseed press (Bezirhane) has been transformed into a salon, offering visitors a singular concert experience in the ancient Cappadocian tapestry.
Amanruya
Ancient pine woods, scalloped coves, and breathtaking natural landscapes can all be found in Turkey's Aegean region. The luxury Amanruya is located in one of these bays on the Bodrum Peninsula.
Amanruya, the most upscale hotel brand in the world, is a part of the portfolio of Aman Resorts. Amanruya's village design, inspired by traditional regional architecture, includes distinct modern stone cottages, each with a private garden and marble swimming pool and breathtaking views of the surrounding forests and sea.
Ariana Sustainable Luxury Lodge
The modern hotel Ariana Lodge, which has a golden color and is named after an ancient sun goddess, is tucked away in this historic setting. Beautiful gardens that cascade down the slope encourage visitors to take in Cappadocia's breathtaking natural splendor.
The hotel's interior is a bright area with traditional and contemporary styling. In addition, the luxurious suites at Ariana are tastefully furnished with a welcoming environment to make guests' stay a one-of-a-kind experience.
D Maris Bay
You'll find an exclusive resort that exceeds all expectations high up on the slope of the gorgeous Datça Peninsula, where the Aegean and Mediterranean Seas meet. D Maris Bay welcomes you into a tranquil haven of beauty, tranquillity, and elegance with outstanding and breathtaking vistas, little islands, luxuriant pine woods, volcanic mountain ranges, crystal clear waters, and five private natural beaches.
Most of the 193 large, opulent rooms, suites, a duplex Presidential Suite, and private Villas at D Maris Bay include bathtubs with stunning views and were all thoughtfully created for the ultimate retreat and relaxation.
Four Seasons Hotel Istanbul At The Bosphorus
The Four Seasons Hotel Istanbul at the Bosporus is a hotel of elegance and comfort situated along the Bosphorus in one of Istanbul's most naturally beautiful neighborhoods. A light-filled blend of ancient Ottoman architecture and modern furniture can be found in the 145 guest rooms and 25 suites.
Not to be missed are the hammam and pillared underground swimming hall with classical music playing underneath! Enjoying a bottle of wine while watching the sunset from the spacious terrace with white tile is unforgettable.
Kempinski Hotel Barbaros Bay Bodrum
A private bay with a "blue-flagged" private beach facing the spectacular Aegean Sea is where the Kempinski Hotel Barbaros Bay Bodrum is located, providing its visitors with a distinctive and opulent getaway. The hotel is nestled on cliffs overlooking the pristine Barbaros Bay.
The hotel's stunning white architecture, natural wood accents, and turquoise-blue pools entice tourists. Floor-to-ceiling windows with walk-out balconies or terraces provide each of the 149 guestrooms and 24 suites with a view of the Gokova Gulf. In addition, the resort features a fantastic spa and a wide selection of restaurants and pubs.
Caresse, A Luxury Collection Resort And Spa, Bodrum
In the center of Bodrum, between the famed Bodrum Windmills and Bodrum Castle, the seaside Caresse, is a Luxury Collection Resort & Spa. The hotel's rooms, suites, and Caresse King Villa are exquisitely decorated and define luxury travel.
They feature luxurious amenities, cutting-edge technology, signature Luxury Collection mattresses, a private balcony or patio, and mesmerizing views of the Aegean Sea. The definition of luxury encompasses a sleek fusion of beautiful bathrooms and fashionable furniture that perfectly encapsulates opulent comfort.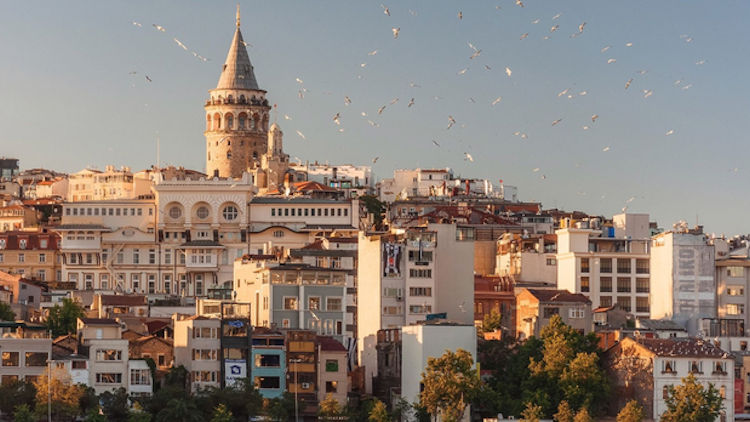 Are There Any Luxury Turkey Tourism Places To Visit?
Yes, there are! These luxury places you can visit are more like tours you can take but they're amazing! The top luxury tours in Turkey are:
Bosphorus Dinner Cruise And Show With Private Table
This is luxury at its finest. Spend the night on a boat while enjoying the view, live music, and stage performances at a private table. Of course, the food is also amazing. All in all, this cruise won't let you down.
Cappadocia Highlights 2-Day Tour With Balloon
First of all, if you're afraid of heights, I don't recommend this. However, this 2-day tour in a hot air balloon gives you a chance to take in the true beauty of Turkey. Take in the Göreme Open Air Museum and the fairy chimneys, and enjoy a hot-air balloon ride.
Luxury Transportation In Turkey
If you go from destination to destination, you want to do so in style. Fortunately, Turkey offers luxury transportation. This includes luxury trains, luxury buses, and luxury vans. You can even ride down the streets of Turkey in a limo!
You can rent these cars or a bus with a driver. That's right! You don't even have to drive. Each luxury car or luxury bus can be rented with a chauffeur.
Are There Any Luxury Ways To Get A Turkey Visa?
Yes, there is! Unfortunately, US citizens need a visa to travel to Turkey. This means that you have to apply for your Turkey visa before traveling. However, if you get your Turkey Visa with the Atlys app, you'll feel like a VIP even before your trip starts.
That's It!
Now you know everything you might want to know about luxury travel in Turkey!
https://www.luxurytravelmagazine.com/news-articles/luxury-travel-in-turkey