Picture this: a serene tropical paradise with abundant lush greens, vast open skies, clear waters, and some of the most hospitable people around. A place where culture, culinary delights, and art lie at the centre of its soul with its heart beating to the rhythm of traditional music. A place where time stands still and lulls you into a rejuvenating stupor that's nothing short of a daydream. That's Indonesia's Bali for you.
Bali is a mystical world of its own that leaves its visitors enchanted with all that it has to offer. It's a destination where people find solace from the chaos of the world amidst nature, culture, entertainment, and food in its purest and most authentic form. From artisan villages and farmers' markets to a happening nightlife and spirituality-oriented experiences, Bali makes for that perfect getaway. To top it all, its luxury resorts are equally mesmerising.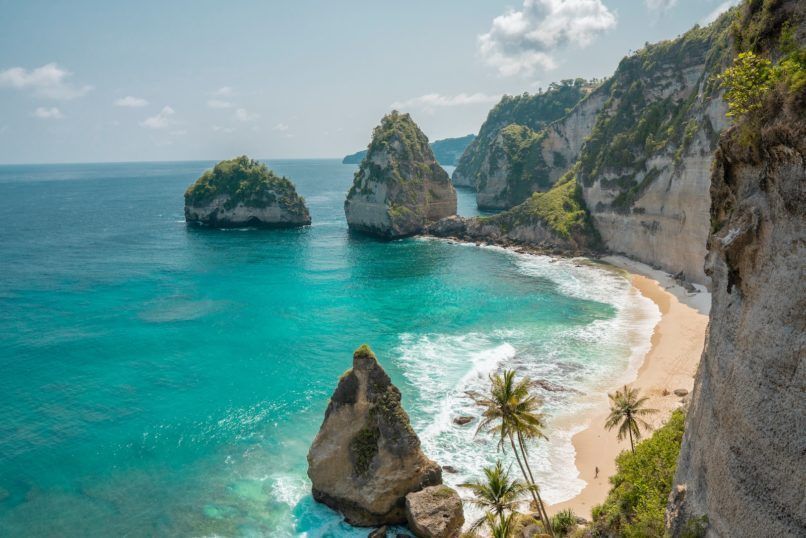 While some are nestled in the quiet corners of the island, others are situated atop a cliff or by the ocean for picturesque views. As much as this 'Island of Gods' has marvels to explore and adventures to indulge in, the best luxury resorts in Bali make a strong case for staying in.
Embracing the surrounding undulating hills, terraced paddy fields, white sand beaches and ornate temples with their spacious, open-air design, the plush properties in Bali redefine luxury like no other.
(Hero and featured image credits: The St. Regis Bali Resort & The Royal Purnama)
This story first appeared on Lifestyle Asia Singapore. 
Below, 15 best luxury resorts and villas in Bali
Built by the edge of Ayung River Gorge in a design inspired by a traditional Balinese village, Amandari is that perfect hideaway you desire. It lies in the village of Kedewatan and has free-standing suites that you can reach through the surrounding winding pathways. In fact, the resort offers different types of villas and suites that boast of views of the valley below and the skies above.
While some villas have their own swimming pools and kitchens, others have their own lush courtyards, outdoor dining areas and infinity pools for the guests to enjoy. They also tailor-make adventures for their guests which include trekking, visit to neighbouring artisans' villages and markets, excursions to temples and much more.
Image: Amandari
A wellness sanctuary located near Ubud, Bali, the COMO Shambhala Estate is all about holistic wellness, with services like massage therapies, ayurvedic treatments, body care and integrated wellness programmes at its core. Nutritionally balanced cuisines and outdoor activities like climbing and hiking further add to the wellness-oriented stay.
They have a wide range of suites, villas and residences for guests to choose from depending on their requirements; some of them have access to shared pools, lounge areas and pavilions, while the more premium options offer private gardens, infinity pools, and even a private waterfall.
Image: COMO Hotels
Nestled in a Balinese jungle over a hill with a sacred river flowing below, Hoshinoya embraces the balance of nature. While the river's mysticism can be felt throughout, the pure air around fills you with peace and bliss that's unmatched. From canal-like pools connecting the villas to the hefty jungles stretching out in almost every direction, this mini village resort is just the right place to let loose and rejuvenate.
While the garden pool villas with different views and amenities let you unwind in style, the aesthetic wood work, thatched roofs and the entire architecture is a blend of Japanese design with a hint of Balinese culture. The property's experiential dining concept will also win you over, as well as its spa and various activities available.
Image: Hoshinoya
One of the most popular resorts in Nusa Dua, Sofitel is a french-inspired beachfront resort with plenty of lush greenery around it. While it has 415 rooms — which includes 39 villas and suites — the place also boasts ballrooms, different restaurants and bars, a spa, and a gym and kids club.
Offering the comfiest luxuries with scenic views of the pristine beach and wide skies, this resort promises to shoo away all your worries to let you enjoy your time in the most magical way. From the resort and room's classy design and chic interiors, to the facilities they are equipped with, everything here speaks of unparalleled grandeur.
Image: Accor Hotels
Situated at a cliff's edge on the Southern tip of Bali, Anantara Uluwatu will unfold a world of incredible views wrapped in stillness and serenity for you. While the terraced architecture is a marvellous sight to the eyes, its suites and villas are furnished with the most exquisite interiors and luxuries.
Cascading down the cliffside, the rooms offer facilities such as private pools, balconies with jacuzzi, courtyards, and kitchenettes, as well as horizon pools and huge outdoor spaces. Their wide range of themed restaurants and bars with different views calm your soul while you savour the sumptuous cuisines to your heart's content.
A mini theatre, holistic wellness activities, Balinese dance lessons, trekking, and whiling away the time in an infinity pool are some of the on-site activities to indulge in.
Image: Anantara
One of the most luxurious resorts in Bali, The St. Regis Bali Resort in Nusa Dua reflects opulence in every way. Overlooking a pristine beach, the resort houses private villas — some even with immediate beach access and a 24-hour butler service. Designed in an airy and spacious setting with beautiful Balinese decor and ornate interiors, the property allows you to embrace and welcome nature and the island's culture fully.
Villas with different views and various facilities like private terraces, a salt water lagoon, Indonesian gazebos with day beds and private swimming pools mark this resort. Thematic restaurants, bars and on-site attractions like spa, fitness centre and pools are just a few of the many amenities that will keep you occupied throughout your stay.
Image: The St. Regis
Situated in one of the most happening places in Bali, Alila Seminyak will fulfil all your 'Bali holiday' desires. While the neighbourhood is popular for its serene beaches, dazzling nightlife, surf-ready waves, and shopping, this resort too is known for providing world-class 'stay facilities' that are garbed in luxuries.
While the suites have some amazing private facilities and spaces to offer, its beachside restaurant and bar are too an experience in themselves. Equally transcendental is its spa, which has a variety of exclusive treatments that make use of the island's own healing herbs. With natural greens and landscapes incorporated in the design, the chic aesthetics and environment-friendly ethos of this resort lends it that unmatched glory.
Image: Alila Hotels
Home to an exclusive collection of villas and suites, The Ungasan Clifftop Resort is one of the best luxury resorts you can stay at in Bali. With multiple swimming pools and gardens throughout the property, get ready to lounge and take dips in water against the splendid views of the horizon.
Featuring infinity pools, private baths, outdoor dining spaces and other facilities, the villas here promise to a space you'll never want to leave. While their restaurant by the pool is a great space to lounge and enjoy food at, their spa, Vela, also has a menu of the most relaxing treatments to pamper you.
Image: The Ungasan
Revel in tranquillity and nature like never before at Six Senses at Uluwatu, which shares unhindered views of the Indian Ocean blending into the vast skies. Landscapes that provide you privacy, sustainability-driven design, and unmatched opulence defines this place. From sky suites and cliff pool villas to the sky penthouse, presidential villa, and the retreat, you'll find yourself spoilt for choice when it comes to stay options.
Rejuvenate with their spa and wellness facilities, savour authentic cuisines and drinks, and a lot more at its bars and dining areas too.
Image: Six Senses
Located on the Seminyak beach with traditional thatched rooms and villas housing modern luxuries is The Oberoi Beach Resort. Fashioned with a harmony of colour palettes, soul-soothing views, and an impeccable design, the accommodation at this resort elicits magnificence in every way. Each villa has private spaces (terrace or pools) that allow you to make the most of your stay in complete privacy.
From a beach-side cafe and a thatched roof open-air restaurant to a stunning bar, this luxury space is sure to please any gourmand with spectacular views and hearty food. While they offer varied therapies at their on-site spa for you to relax and let loose at, it also arranges for adventure-packed experiences like safaris, water activities, and a visit to various tourist spots.
Image: Booking.com
An exclusive beachfront resort in the heart of Seminyak, this luxurious property has everything it takes to make your stay truly one-of-a-kind. Offering relaxation enveloped in luxury are the resort's suites and villas that are a private retreat in their truest essence. Each boast of spacious design that marries its spectacular environment beautifully, letting you experience Bali at its best.
Furthermore, it has various dining spaces, each with a distinct ambience serving a selection of European and Asian cuisines to appease your taste buds to the fullest. The spa and fitness centre completes your stay with all its wellness treatments.
Image: Booking.com
A clifftop sanctuary overlooking the Jimbaran Bay, the Ayana Resort is nestled amongst secluded lush tropical gardens with panoramic views of the ocean below. It's one of the best luxury hotels in Bali for honeymooning couples desiring luxury, privacy, and stunning sunset views all at once. One of the best resorts in Bali, this magnificence of this lavish property promises a once-in-a-lifetime experience, especially since it's known for its secluded spaces, tasteful interiors, and private pools.
Your romantic escapade is made even more memorable thanks to the various bars, restaurants, and entertainment venues strategically located throughout their 90-hectare space. From lots of thematic dining areas and spa spots to gyms and an 18-hole miniature golf course, you really wouldn't need to go anywhere else to make the most of your trip.
Image: Ayana Resort
Nestled in Southeast Bali in Sukawati is The Royal Purnama which is an exclusive boutique retreat full of luxurious facilities and impeccable hospitality. Their private villas house distinctive amenities like private pools, separate kitchens and semi open-air bathrooms, amongst many others.
Be it their Standing Stones Restaurant & Beach Lounge, the gym or the Black Sand Spa, each of their facilities enhance the experience of staying here.
Image: The Royal Purnama
Reflective of modern-day opulence woven with Balinese traditions is The Ritz-Carlton resort in Nusa Dua, a luxury destination in itself. With a beachfront location that offers glorious views of the ocean, this resort will be your haven for relaxation and rejuvenation, with a collection of suites and villas that promise an unforgettable stay.
Equally incredible are their dining and bar areas that have been designed with dedicated themes with dishes to match. Their holistic wellness indulgences include a spa, steam room, sauna rooms, a yoga studio, and hydrotherapy stations. Expect to leave rejuvenated.
Image: The Ritz-Carlton
The name of this resort itself is enough to give you a peek into all the luxuries that this place would have to offer. The Bulgari Resort Bali is one of the most exotic resorts in the area, providing complete seclusion from everything else. It is just the right pick for people (especially couples) who want to spend their time in nature without compromising on the little luxuries.
The resort also offers services that range from day excursions and helicopter flights above volcanoes, to personal shoppers who accompany you to markets. The dining and spa facilities there, as well as its villas and mansions are exquisite, with in-villa luxe amenities that house private meditation pergolas, sun decks, and cinemas.
Image: Booking.com