Our visit to Berlin began in a rainstorm. Arriving from Amsterdam by train, Berlin Central Station ("Hauptbahnhof") was packed with travelers. Wheeling our suitcases through the massive station, Michelle and I stopped to pick up Berlin Welcome Cards and Museum Passes. We walked out to the taxi stand and took refuge inside a cab.
Looking through rain-slicked windows, there wasn't much to see as the cab cruised through one neighborhood after another.
Hotel de Rome
The taxi delivered us to the entrance of Hotel de Rome where our suitcases were quickly sent to our room. At reception, we were welcomed with glasses of Perrier-Jouët champagne as our reservation details were reviewed. The champagne was delightfully ice cold, the staff warm and friendly.
Hotel de Rome is a member of the Rocco Forte Hotels, a family-owned chain of hotels that emphasizes quality of service in unique settings.  Located in the Mitte neighborhood, Hotel de Rome was originally the Dresdner Bank. The redesign of the interior took full advantage of the bank's high ceilings to create a lobby with a welcome spaciousness.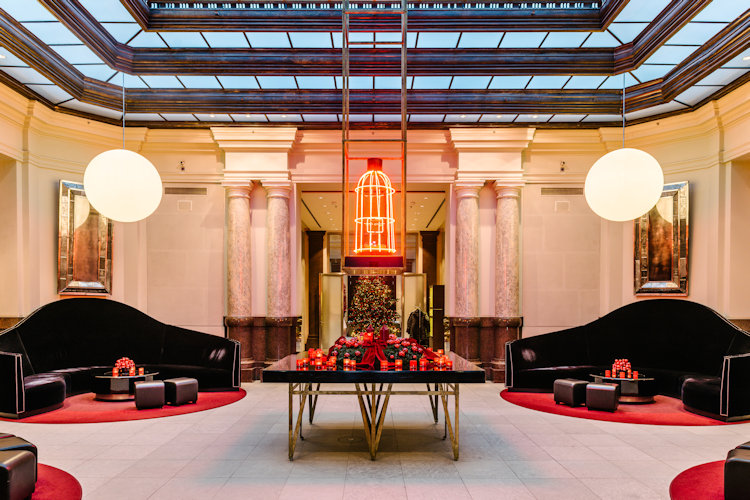 Art and color made big statements in the hotel with dramatic close-up portraits of faces on lamp shades, a profusion of carnations and roses sprouting from bud vases on tables and giant bouquets of hydrangea and irises. On the walls around the hotel, photographs by Daniele Colarieti offered engaging close ups of architectural details of buildings in Rome from antiquity to the Baroque period.
In the lobby, soft white globes hung from the ceiling and Berlin artist Olivia Steele's pink and white neon birdcage sculpture were featured in the lobby. Splashing color across muted marble walls, bright burgundy circular carpets and black banquets transformed a temple of commerce into an oasis of elegance.
Besides enjoying the interior design, we appreciated the hotel's location, only a ten-minute walk to many of Berlin's well-known attractions including Museum Island, the Humboldt Forum, the Brandenburg Gate, the Reichstag and the Holocaust Memorial.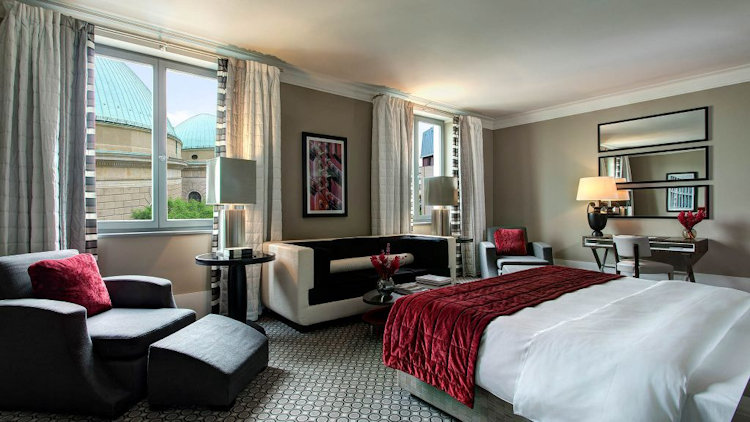 We were delighted by our fourth-floor junior suite. An entry area led to the bathroom with a glass enclosed shower, a large bathtub, toilet and bidet. The creature comforts included a rainfall shower head as well as a handshower, heated floors and towel rack and Irene Forte skin care products created especially for the hotel. The sleeping area was outfitted with a firm, king-sized mattress and furniture with an eye to modern design features. A black and white sofa, two club chairs, an oval mirrored-top coffee table with a bright red bottom shelf and colorful art on the wall were comfortably traditional with a modern touch. After the long trip, we appreciated the welcoming snacks and beverages that were on the coffee table.
For fresh air, we opened the glass doors to the small balcony with a view of the skyline looking south toward Gendarmenmarkt. Sheers covered the glass door during the day and at night, we closed the heavy curtains for sleeping.
In the morning, we had breakfast in the hotel's main restaurant, CHIARO. We sat outside on the terrace and shared the meal with several small birds that had taken up residence in the live trees planted on one side of the terrace.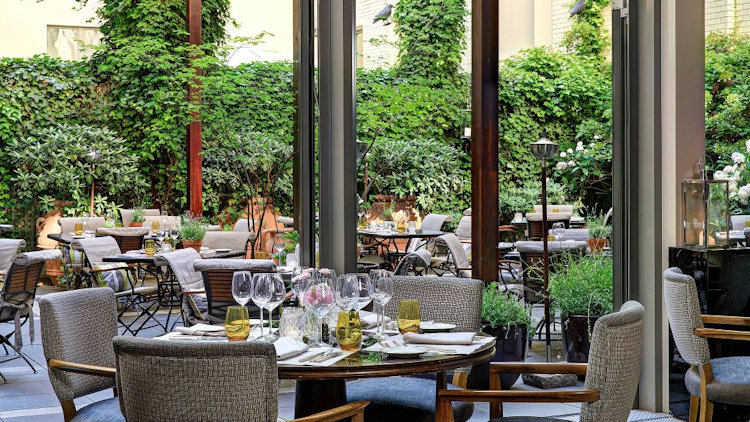 The well-provisioned buffet was a marvel of variety and quality. Sliced charcuterie, a selection of cheeses, breads, rolls, jams, pastries and cereals, fruit, freshly squeezed fruit juices, yogurt, honey still-in-the-comb, smoked salmon and iced-chilled Casa Gheller Prosecco were available every morning.  From the menu, we could have also ordered eggs any way we wanted, so one day we ordered hard-scrambled eggs, the next morning, soft poached eggs with crisp bacon and sourdough toast.
For dinner at CHIARO, chef Tim Mälzer delivered his signature approach to two well-established cuisines, Italian and Japanese.  Borrowing techniques and ingredients from both, he created a unique dining experience, described on the website as "lively, uninhibited."
After an amuse bouche of focaccia in a brioche-shape with a maple syrup glaze, Chloe, our server, helpfully explained that sharing was the preferred approach to ordering, usually two to three dishes per person. The menu was divided into sections: Bejitarian/vegetarian, Shifūdo/fish, Niku/meat, Okazu/sides and Dezāto/dessert.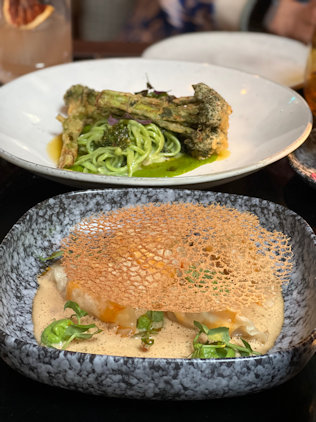 For starters we ordered the Rispettare L'insalata Caesar prepared at the table and rock oysters with a delicious buttermilk cream. We enjoyed Mälzer's colorful, exuberant approach in the Chitarra Verde, Italian spaghetti alla chitarra, with a creamy broccoli sauce and melt-in-your-mouth crisp Japanese broccoli tempura. The gyoza di scampi also combined Italian and Japanese techniques. We enjoyed how the Parmesan lattice crust rested gently on top of a plate of crispy Japanese dumplings in a vinaigrette made with shrimp shells, pea and Nduja oil.  In Merluzzo, thin slices of translucent cod were folded and shaped like a pocket and flavored with gremolata and Amalfi lemon.
For dessert, we wanted a sweet taste, something simple. We ordered the Gelato al Pistachio topped with roasted pistachios and a Dutch-style stoopwafel. More than satisfied, we were prepared to stop, but Chloe encouraged us to have one more dessert, one that showed that while chef Mälzer is a serious cook, he has a sense of humor. With that, she rolled out a cart with what looked like a sausage grinder. After a few turns of the handle, the plate filled with what appeared to be spaghetti. She added toppings that looked like tomato sauce and grated Parmesan cheese. One taste and we knew that the eye deceived as we thoroughly enjoyed an ice cream sundae of white chocolate ice cream topped with deliciously sweet strawberry sauce.
Looking for history
To begin our tour of Berlin's historical sites, we didn't have far to travel. When we first arrived, we enjoyed the wide-open plaza called Bebelplatz between the elegant boulevard, Unter den Linden, and the Hotel de Rome. On one side of the plaza, music, learning and art were celebrated at Humboldt University and, on the opposite side, at the Berlin State Opera House.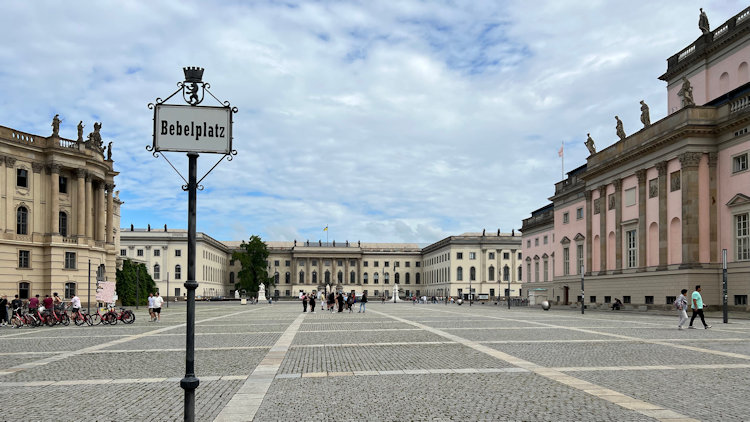 When we walked through the plaza, we noticed groups of people standing silently, staring at the ground. Curious, we joined them but our eyes didn't see what was there at first. And then, as we looked through the thick glass window, in the darkness we saw shelves. Empty shelves, painted white. The bronze plaque next to the window explained in German that the empty shelves memorialized a terrible event. On May 10, 1933, a Nazi rally was held on this spot. A mountain of books was set ablaze. That horror preceded many horrors to come. Commemorated by the Israeli artist Micha Ullman, his sculpture of a spectral library was a startling reminder that this peaceful plaza was once the site of a book burning. That violent act became a symbol of censorship and intolerance.
From that moment we realized that if we were interested in history, we were in the right place. Berlin has been a center of important events for centuries.
Working with visitBerlin to plan the trip, Kirsten Schmidt told me a good way to have an overview of the city's layout and history was to visit the Dome at the Reichstag.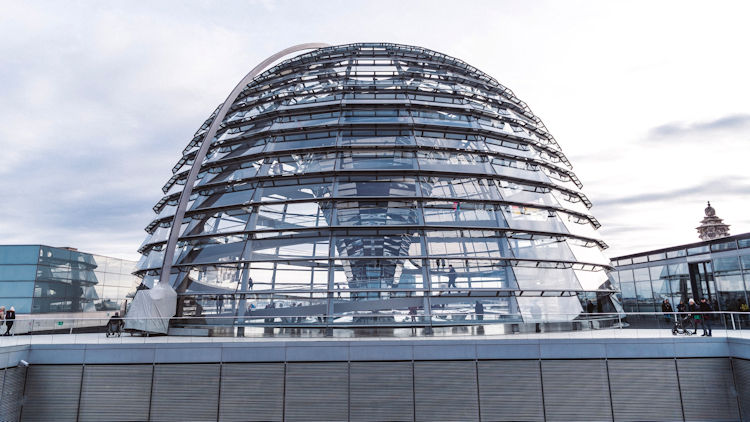 Separated into East and West during the Cold War, after reunification, Berlin was once again the capital of Germany. Protecting its historic architectural details, the Reichstag was renovated and updated to house the Federal parliament ("Bundestag"). As part of that effort, a 360° dome was built out of glass, mirrors and metal so that visitors could look out over the city and down through a skylight into the Reichstag where members gather to debate legislation. Designed by architect Sir Norman Foster, the Dome was meant to symbolize a new era of transparency.
Admission to the Dome was free but tickets had to be obtained online. Ticketing was a two-step process. First, I registered and requested a date and time. A confirming email said my request had been received. That was not my ticket. A second email advised me that I had been given a ticket. I printed out the email with the date and time and brought that with us along with our photo IDs to show at security.
At the top of the building, we picked up complimentary audio guides, walked out onto the terrace and entered the Dome.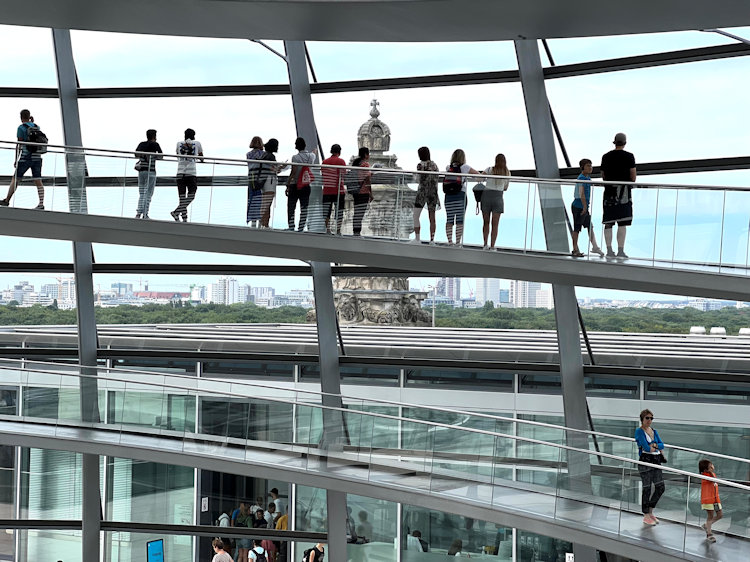 Like the Guggenheim Museum in New York, the Dome had a spiral walkway leading from the bottom to the top. With our headsets on, as we walked, the audio guide gave facts about the city, the Bundestag (the Parliament) and the Reichstag (the building). Because the headset sensed where we were, we were directed to look in one direction, then another to see important landmarks. After each "explainer," the audio voice politely encouraged us to "let's start walking again." As we walked higher, we saw more of the city.
Reunification was the theme of the audio tour. After the Wall came down, the people of East and West Berlin needed to be united. The buildings and layout of the city also needed reunification. We learned about Berlin's history, the importance of the Brandenburg Gate, the building of the U.S. Embassy and the nearby Tiergarten Park, one and a half times larger than New York's Central Park. Originally a private hunting preserve, the public park was completely destroyed during WWII. Reforested in 1949, over the past seventy years, the park has grown lush with mature trees.
When we reached the top, we had a view to the horizon, East and West united, with Germany's flags, flapping in the wind, their black, red and yellow bands, symbolizing "freedom and unity."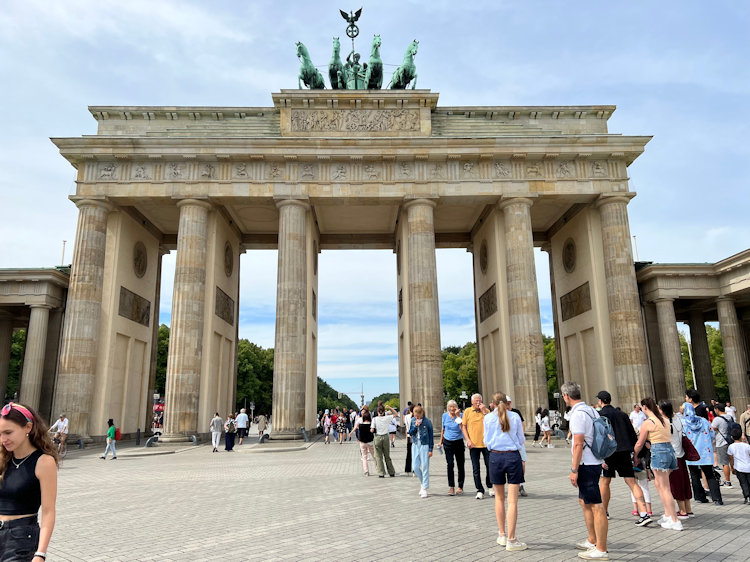 Leaving the Reichstag, the day was sunny and warm as we walked across the eastern edge of the Tiergarten to the Brandenburg Gate. During the Cold War, the Gate was walled off, accessible to neither West nor East Berliners. Built in the late 18th Century by Frederick William II of Prussia as a symbol of peace, when the wall came down, people flocked to the Gate in a celebration of reunification and freedom, embracing the monument as their own. Today, the memorial endures as a symbol of positivity and possibility. We joined the crowds passing under the Gate, looking up to appreciate its beauty and taking selfies with the Gate as a backdrop.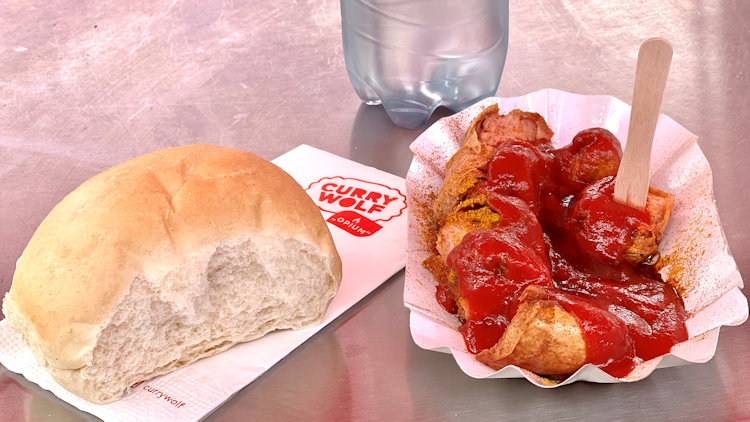 In Pariser Platz just beyond the entrance of the Gate, we passed the U.S. Embassy and a Starbucks on our way to one of Berlin's favorite attractions, Curry Wolf. When I was researching Berlin's must-visit destinations, visitBerlin's Joyce Bernitt recommended that if we wanted to have currywurst, that very Berlin-snack, we had to stop at Curry Wolf.  "You can make it more special in adding a glass of Champagne. And if you like it hot, try the Opium sauce."
Located just in front of the Hotel Adlon Kempinski, Curry Wolf was an outdoor kiosk with a small covered eating area. We saw that the servers could be impatient with customers who gave their orders too slowly, so we studied the menu on the side of the kiosk and decided what we wanted before we reached the counter. The choices were straight-forward, a freshly grilled sausage was cut up, topped with a tomato-curry sauce and served with a choice of a roll, a drink, French fries or a small bottle of Moët Chandon champagne.
Our order came out quickly. The fat and juicy wurst had great flavor, enhanced by the tomato-curry sauce. It was too early in the day for a glass of champagne and the Opium sauce looked too spicy, so we happily ate ours with a roll, a perfect complement to the spicy-fatty wurst.
A five-minute walk south from the Brandenburg Gate, there was a very different memorial.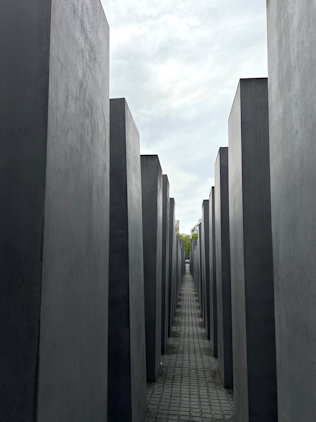 The Holocaust Memorial also known as the Memorial to the Murdered Jews of Europe had two areas. One, above ground, the Field of Stelae, was the size of three-and-half football fields. The second, the Information Centre, was located below ground.
The Field of Stelae was deceptive. Seen from the street, the stelae, grey concrete slabs, were arranged close to one another and appeared to be only slightly taller than gravestones.
To engage with the memorial designed by architects Peter Eisenman and Buro Happold was to walk between the stelae, of which there were more than 2,700. The foot paths were wide enough for two people to walk side-by-side. The foot paths between the stelae created a grid. Not a maze because we always knew where we were, but as disquieting as a maze because the foot paths from the street sloped down and undulated.
Unnervingly, as we walked, the slabs became taller than we were. First 6', then 9', then 12' and even taller. Soon, we could see nothing around us except the grey concrete stelae towering over us. If we looked straight up, we could see a sliver of blue sky, much as we would see if we were standing in the bottom of a freshly dug grave. What's more, the stelae weren't all standing straight. Some leaned away from us. Some leaned over us. All of which created an uncomfortable feeling of being too small, of being threatened in a place where we were powerless and at risk.
The portion of the memorial that was underground, the Information Centre, documented the human tragedy that was visited upon the Jews of Europe. That informational memorial was devastating in ways different from the Field of Stelae. If the notion of eight million murdered was abstract and the stelae created only a metaphorical threat, the underground memorial featured artifacts of those murdered by Nazis. Their faces, names and stories. The lives that were lost. The cruelty that was visited upon so many by so few.  Everyone who took the 60 to 90-minute tour came out deeply moved.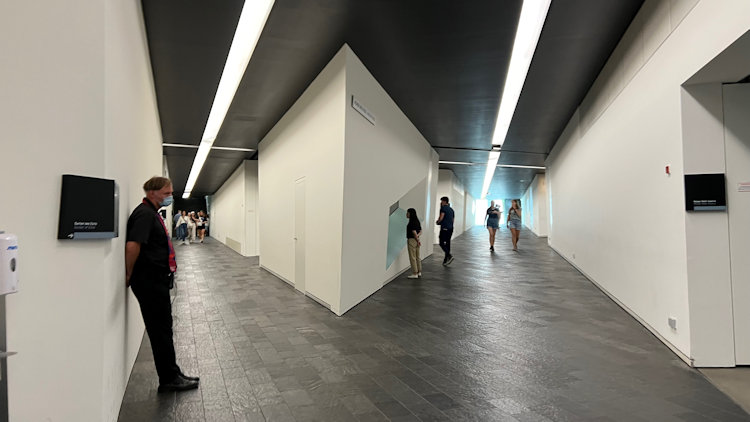 The Jewish Museum, in the Kreuzberg district, looked at the history of the Jewish people in Germany. The enormous collection documented the rich history, religion, art, music and culture of the German-Jewish people from the 4th century to the present.
As part of the permanent collection, the Israeli artists, Gilad Ratman ("Drummerrsss") and Yael Reuveny with Clemens Walter ("Mesubin: The Gathered") presented video material to characterize the Jewish experience in Germany. Both exhibits were very emotional in different ways. At the entrance to the collection, in "Drummerrsss," two drummers play. One drummer played with noisy exuberance as he floats in the air while a second drummer was confined in a dark hole. In "Mesubin," Jews spoke about their identity, answering questions that echoed the four questions that are asked on Passover.
One of the ways the museum communicated the daily lives of German Jews was by "Telling stories with objects." Displays included photographs, furniture, religious objects and other ephemera to tell a story of middle-class life before the catastrophic disruption of National Socialism. The unsettling experience of visiting the collection was shaped as much by architect Daniel Libeskind as by the curators. Walking through the building was disorienting because of narrow, slanted walkways and steep staircases.
The underlying idea of both the Memorial and the Museum was that we must never forget what happened during the terrible time of the Holocaust. That meant knowing the names and stories of those who suffered so greatly. And, if knowing all that made us uncomfortable, then perhaps that would make us remember what had happened, to whom and why. And, remembering will make us understand the political forces, fueled by intolerance and hatred, that can turn a society against its own so that we can defend against those forces.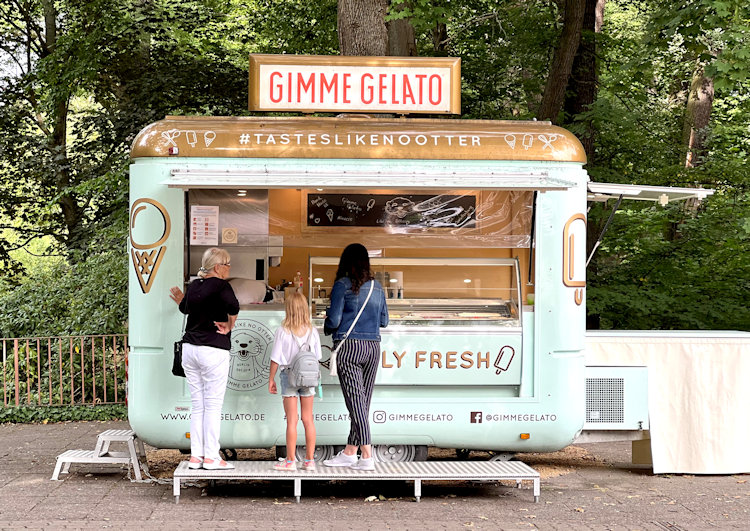 Restaurants, the Department Store of Your Dreams and Wild Animals in Europe's Largest Zoo
Close to Hotel de Rome, we walked ten minutes to Bless. A casual restaurant with sidewalk seating and an elegant interior, the menu at Bless emphasized authentic Vietnamese flavors and fresh ingredients. The restaurant was located behind Gendarmenmarkt and the very large German and French Cathedrals and Karl Friedrich Schinkel's Concert House.
We ate outside in an area with a dozen tables. We shared the Ha Cao Bay, a soup with shrimp and chicken dumplings, string beans, bok choi, cilantro, broccoli florets, zucchini and carrots. With an exuberance that characterized Bless, the next dish was the refreshingly Happy Salmon Rolls with sashimi quality salmon, rice noodles, mango, lettuce and a sesame sauce. The main course was the Tonkin Prawns, a lovely plate of grilled tiger prawns served with baby carrots, bok choi and sepia noodles in a carrot and shellfish oil sauce.
On another night, after a full day exploring the city, we ate at a traditional Turkish restaurant, Alay By Hasir, not far from Museum Island. The restaurant was tucked away in a charming courtyard with dining outside on a covered patio and inside in an elegant dining room lit by elaborate crystal chandlers. The large menu had something for everyone. My wife ordered a vegan entre ("Izgara Karnabahar") with cauliflower sweetened by grilling and platted on top of savory hummus, avocado, parsley, olive oil and pine nuts. I had the charred, deboned chicken thigh and bone-in leg ("Kemikli Tavuk Pirzola") marinated in olive oil, garlic and Turkish spices on steamed rice, with a grilled tomato and green peppers and a mixed salad of red and white raw onions.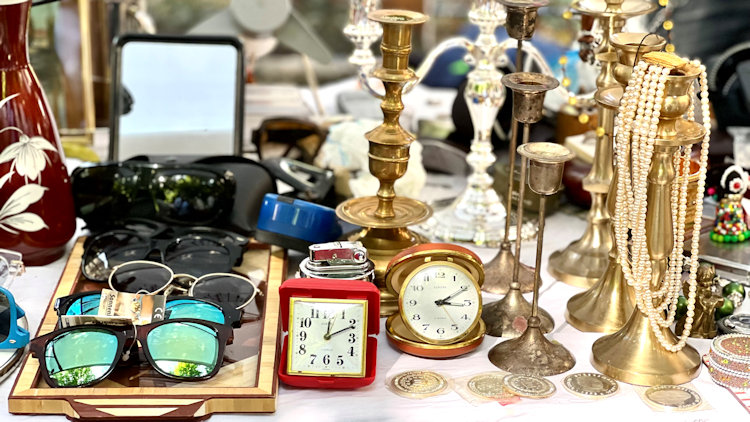 We had heard that Berlin was famous for its many flea markets. With time to see just one, we chose the Sunday Boxhagener Platz flea market in what was once East Berlin. Sellers offered second-hand treasures on the crowded sidewalks outside the park.  If we were outfitting a home in Berlin on a budget, this is where we would visit. Just about anything we could need was for sale: phonograph records, jewelry, household goods, clothing, shoes, art, toys, musical instruments, books, watches and furniture.
In the neighborhood close to Boxhagener Platz, there were dozens of restaurants. We stopped at Hangmee Exotiq Finest Asian Food. Serving a mixed menu of Thai-Laotian dishes, Hangmee's casual indoor-outdoor setting was the perfect place to have a meal and relax after exploring the Friedrichshain neighborhood's graffiti decorated buildings and shops featuring East Village style clothing.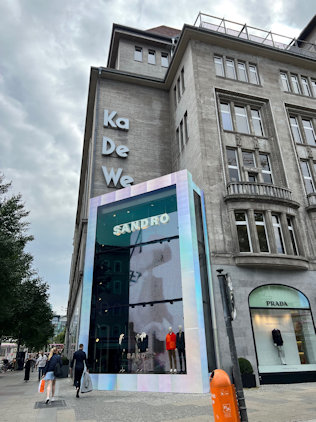 Close to the Kurfürstendamm, an upscale shopping area, the elegant department store known as KaDeWe (Kaufhaus des Westens) sold high fashion products in a design-forward setting. We rode up the visually spectacular escalator for a view of every floor. The top floor food court rivaled London's Harrods with sumptuous displays of sweet and savory edibles that included caviar, champagne and chocolates as well sausages and cheeses. Eat in or take out, the choice was ours. But we didn't eat there because we were having lunch around the corner.
On a quiet street, Brasserie Colette by Tim Raue offered a welcome respite from busy Berlin. Elegantly plated meals were served in a cozy dining room with a full bar and, in warm weather, outside on the sidewalk in an area with comfortable chairs. Taking a modern approach to classic French bistro dishes, chef Tim Raue, a two-star Michelin chef, brought strong flavors and aromas to dishes like prawn Marocain and bouillabaisse. Ralf Ostendorf of visitBerlin recommended the restaurant because he felt that Raue exemplified Berlin's openness to self-made chefs who want to make a statement and "Berlin is different from the other parts of Germany. If a person ran naked in the street, Berliners would say, 'Ok, if that is what he or she wants, ok'." That forgiving attitude is unique to Berlin. The meal was a highlight of the trip.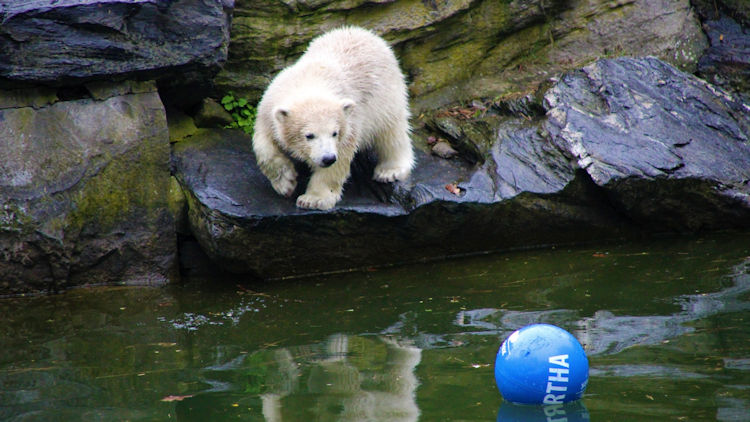 We were happy we were wearing comfortable shoes when we visited Tierpark Berlin. With almost 400 acres, the zoo is the largest in Europe. We enjoyed seeing the animals, but just as enjoyable was the beautiful park setting with massively tall, mature trees and picnic areas with covered benches and comfortable seating. We came in the late afternoon and trying to find some of the animals was a little like playing "Where's Waldo?". Many animals like the bush dogs and polar bears were sleeping. Happily, others like the giant rabbits, camels, goats and sheep were wide awake and lively.
With a mix of domesticated and wild animals, the zoo was large enough that many of the larger animals had an expansive area in which to roam.  At the petting zoo, definitely a highlight for younger children, we watched mothers encouraging their toddlers to pet the sheep and goats.
Throughout the park there was so much to see. Next to the walkways, there were delightful sculptures of animals. In the indoor rainforest exhibit, interactive lessons taught us about the ways humans impact natural habitats like rainforests. We spent several hours at the zoo and just before leaving we shared cones of delicious hazelnut and chocolate-mint gelato at the tiny Gimme Gelato trailer in front of the Kakadu Café.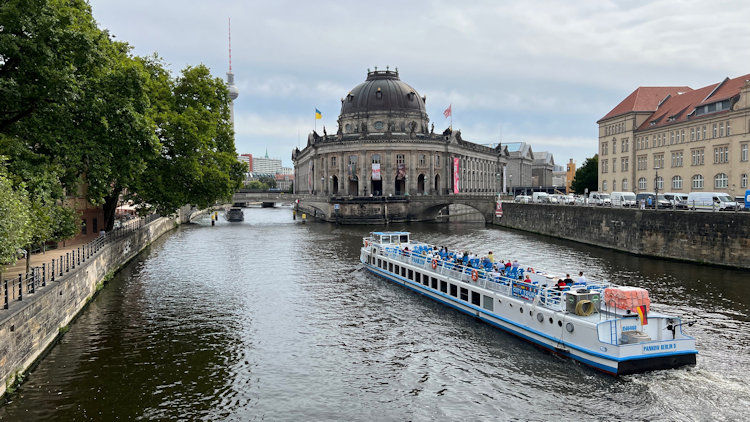 Museums
Located on an island in the River Spree and designated a UNESCO World Heritage Site, Museum Island ("Museumsinsel Berlin") is a cultural center for Berlin. Popular with residents and visitors, the museums on the island have important collections housed in distinctive buildings, remarkable for their architectural styles. With a good supply of cafes and bars nearby, we could have easily spent several days visiting all the museums: Altes Museum ("Old Museum"), Alte Nationalgalerie ("Old National Galerie"), Bode-Museum ("Bode Museum"), James-Simon-Galerie ("James Simon Gallery"), Neues Museum ("New Museum") and Pergamonmuseum ("Pergamon Museum").
We discovered that some of the pleasures of Museum Island were outside on the street. We were entertained by opera singers in front of the James Simon Gallery and by the Mind Blowing Orchestra, a 9-piece electro-swing band, performing on the pedestrian Monbijou Bridge in front of the Bode Museum.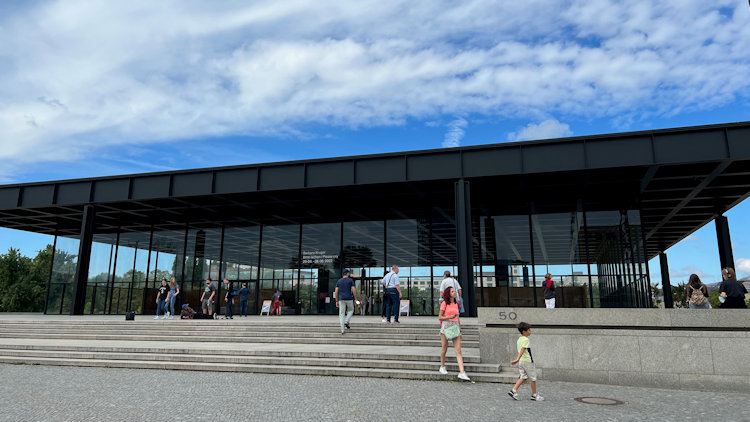 Berlin's Neue Nationalgalerie ("New National Gallery") was a thirty-minute walk from Museum Island. Originally designed by the modernist, German-American architect Ludwig Mies van der Rohe and refurbished by David Chipperfield Architects, the building was visually striking. The flat roof seemed to levitate above an open pavilion space. Supported by giant glass plates and steel girders, the street-level floor was an exhibition space, but the museum's main art gallery and the sculpture garden were down a flight of stairs.
That main exhibition space was divided into galleries with paintings and sculptures that were arranged chronologically and thematically. Illuminating the ways artists incorporated or rebelled against the thinking of their times, the galleries traced the rise and fall of important currents in German thought. Colonialism, National Socialism and Communism, once celebrated were later regarded less positively. After exploring the amazing gallery spaces, we went outside to the sculpture garden to enjoy a sunny, cool day surrounded by fascinating sculptures.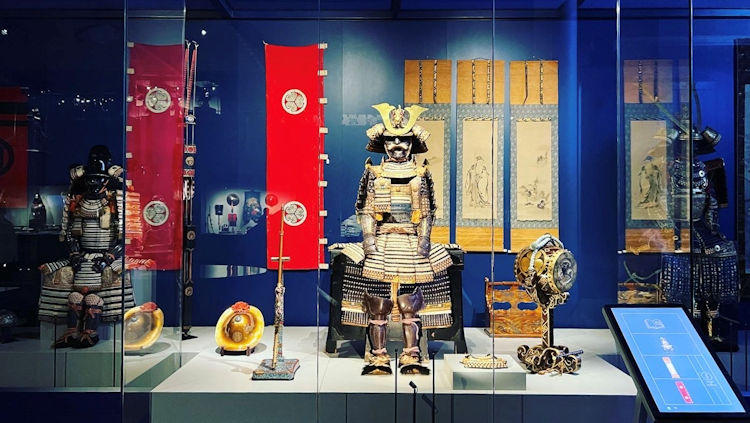 Berlin has 170 museums. One of the newest is the Samurai Museum Berlin. The heart of the museum's exhibits came from the personal collection of Peter Janssen. From the four thousand objects he has collected, he placed a thousand of his "most cherished possessions" in the museum. What was on display included highly crafted clothing, armor, masks, headpieces and weapons to be used in battle.
In addition to historical objects, the museum used traditional methods to build a tea house and a Noh theater with a video projection of a performance that played during the day. In dramatic diorama, life-sized human figures wore authentic clothing and carried weapons that brought us up-close to samurai life. Using interactive controls on video displays allowed us to learn about the details of each display. Who owned the helmets, weapons and masks and how these objects reflected the social status of the samurai.
The second-floor gallery space offered more exhibits and the remarkable photographs of the Polish artist Sylwia Makris.  She created images of samurai in battle and in portraits where the person faced the camera. Each photograph created searing images of Samurai intensity and clarity. Her work was startling and emotional.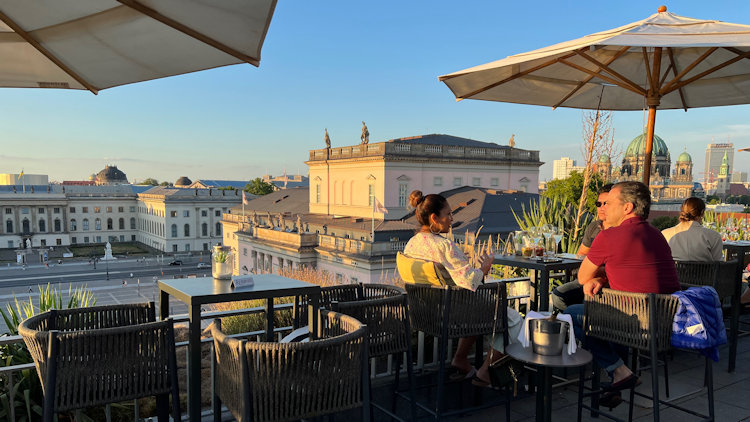 Our last afternoon in Berlin
We ended our visit in Berlin where we began, at the Hotel de Rome. We had enjoyed drinks with friends at the Rooftop Terrace so we knew the pleasures of its view of the Bebelplatz and we appreciated its slogan "Life is much easier sitting on a rooftop." We watched as the sun cast a magic-hour, golden glow over the buildings of the Bebelplatz. We enjoyed a delicious Caesar salad and looked at the photographs we had taken on the trip. We had seen so much, but I was reminded of what Joyce Bernitt of visitBerlin had said when I was planning the trip, "No matter how long you stay in Berlin, it is always too short, as this city simply has a lot to offer." We couldn't agree more.
When you go
An excellent resource, the visitBerlin website has up-to-date information about shopping, restaurants, activities, cultural destinations and seasonal events. The website is in English, German, French, Italian and Spanish. The "Which Berlin do you want to see?" section offers useful ways to explore the city, depending on your interests. Subscribe to the "Newsletter for Berlin" to receive a complimentary newsletter with insider information about what's going on in the city. The website has a link to the very useful Berlin Welcome Card. With more than 170 museums in Berlin, including those on Museum Island, visiting Berlin's museums is facilitated by buying the Berlin Museum Pass.  We picked up our Welcome Card and Museum Pass when we arrived at Berlin's Central Station ("Hauptbahnhof").
Tips: GPS-based apps like Google Maps make getting around Berlin very easy. Public transportation in Berlin is very efficient, especially when you can use the modern and clean subway system.
Be sure to carry 1-euro coins so you have an easy entry into public bathrooms like the ones in the main train station that are bright, clean and well-staffed.
It helps to know that most stores are closed on Sunday. Restaurants and bars are open. Most museums are closed on Mondays. Hiking and biking trails can be very busy on the weekends. If possible, plan those activities during the week.
Hotel de Rome, Behrenstraße 37, 10117 Berlin, +49 (30) 460 60 9-0, from the U.S. and Canada 1888-667-9477, [email protected].  With 109 rooms and 36 suites, a spa, work out room and indoor pool (currently under renovation), the hotel offers complimentary Irene Forte Skincare products, shoe shining and WIFI. A family business, Rocco Forte Hotels is run by Sir Rocco Forte and his sister Olga Polizzi along with all three of Sir Forte's children, Lydia, Irene and Charles. Irene Forte is the Wellness Director. The hotel is non-smoking except in the Cigar Lounge. When booking a room, enquire about adding the high quality and bountiful breakfast service. Afternoon tea is also available, served in the Opera Court, between the Lobby and ballroom. CHIARO Restaurant, just off the main lobby, has an indoor dining room, outdoor terrace and bar-lounge. With a view of Bebelplatz, the Rooftop Terrace has a view of the nearby historic buildings where you can enjoy drinks and food in a relaxed setting.
Museum Island:
Museumsinsel Berlin ("Museum Island Berlin"). The island and museums can be crowded so purchase tickets online beforehand.
Altes Museum ("Old Museum"), Museum Island, Bodestraße 1-3, 10178 Berlin, +49 30 266424242. Focused on classical art, the Altes Museum was the first museum built on the island in the early 19th century with the intention of sharing access to great works of art with the general public.
The Alte Nationalgalerie ("Old National Galerie"), Museum Island, Bodestraße 1-3, 10178 Berlin, +49 30 266424242. The museum is well-known for its collection of 19th century art.
Bode-Museum ("Bode Museum"), Museum Island, Am Kupfergraben, 10117 Berlin, +49 30 266424242. Byzantine Art, sculptures from the 19th and 20th centuries, priceless coins and paintings by Italian masters are but some reasons to visit the Bode Museum.
James-Simon-Galerie ("James Simon Gallery"), Museum Island, Bodestraße, 10178 Berlin, +49 30 266424242. Open since 2019, the James Simon Gallery was created as an exhibition space and a visitor center.
Neues Museum ("New Museum"), Museum Island, Bodestraße 1-3, 10178 Berlin, +49 30 266424242. Although called "New," that does not refer to what is in the collection. The museum focuses on works by ancient Egyptian artists and on works from earlier periods. There are many reasons to visit the museum, most notably to see a well-known bust of the Egyptian Queen known as Nefertiti.
Pergamonmuseum ("Pergamon Museum"), Museum Island, Bodestraße 1-3, 10178 Berlin, +49 30 266424242. Not-to-be-missed, the collection features architecture from the ancient world. Some are massive structures like the Market Gate of Miletus, which was reconstructed using a mix of original and new materials.
Where to go. What to see.
Alay By Hasir, Oranienburger Straße 4, 10178 Berlin, +49 30 28041616, [email protected]. Website in German only.
Bless, Hausvogteiplatz 10, 10117 Berlin, +49 (0) 30 206 197 95, [email protected].
Boxhagener Platz Sunday Flea Market, Boxhagener Platz 1, 10245 Berlin. For a list of Berlin's many flea markets, each with their own qualities, please go to visitBerlin.
Brandenburg Gate, Pariser Platz, 10117 Berlin.
Brasserie Colette by Tim Raue, Passauerstraße 5-7, 10789 Berlin, +49 30 21992174, [email protected].
Chiaro, Hotel de Rome, Behrenstraße 37, 10117, Berlin. +49 30 460 609 1212, chiaro.berlin@roccofortehotel.
Curry Wolf ("Currywurst am Brandenburger Tor"), Unter den Linden 77, 10117 Berlin.
The Dome at the Reichstag Building, Platz der Republik 1, 11011 Berlin, +49 30 22732152. Reservations for the rooftop restaurant can be made by email or phone: +49 (0)30 226-29933 and [email protected]. Complimentary audio guides are available in eleven languages. The tour takes between 60-90 minutes.
Gimme Gilato, various locations. Website in German only. The website lists the Google Maps locations of the ice cream vans. Seasonally closed for the winter months.
Hangmee Exotiq Finest Asian Food, Boxhagenerstrraße, 108, 10245 Berlin, +030 82717447. Website in German only.
Hauptbahnhof ("Berlin Central Train Station"), Europaplatz 1, 10557 Berlin. Large and multi-storied, the station has many places to eat and shop. Remember to carry 1-Euro coins so you can pay to use the well-appointed bathrooms.
Holocaust Memorial (The Memorial to the Murdered Jews of Europe), Cora-Berliner-Straße 1, 10117 Berlin, +49 30 2639430. Because construction has been undertaken at the Memorial and in the area, please check the website for any changes in access.
Humboldt Forum, Schloßpl. 1, 10178 Berlin, +49 30 992118989. Incorporating the Ethnological Museum and the Museum of Asian Art, Humboldt Forum is a large complex across from Museum Island. Before arriving in-person, go online to explore the museum's richly diverse exhibitions of historical and contemporary art.
Jewish Museum Berlin ("Jüdisches Museum Berlin"), Lindenstraße 9-14, 10969 Berlin, +49 30 25993300. The website is in German, English, Spanish, Italian and French.
KaDeWe, Tauentzienstraße 21-24, 10789 Berlin, +49 30 21210. There is an English-language website, but the German-only website is more visually interesting with images that illustrate the range and quality of products for sale.
Neue Nationalgalerie ("New National Gallery"), Potsdamer Straße 50, 10785 Berlin, +49 30 266424242. David Chipperfield Architects completed the refurbishment of the museum in 2021. That work is invisible when you visit, but the details are worth knowing about. Please see Lizzie Crook's article in Dezeen Magazine.
Samurai Museum Berlin, Augustraße 68, 10117 Berlin, +49 30 62975635, [email protected].
Tiergarten Park. The almost 520-acre park in the center of Berlin has recreational and cultural opportunities, including the Berlin Zoo and Zoological Garden, cafes and monuments. Close to the Reichstag, Brandenburg Gate and Holocaust Memorial, the park is a green oasis in densely populated Berlin.
Tierpark Berlin, Am Tierpark 125, 10319 Berlin. Dogs on leashes are allowed in the park, but masks are not because they frighten the animals.
https://www.luxurytravelmagazine.com/news-articles/luxury-at-the-hotel-de-rome-fine-dining-museums-and-samurai-in-berlin