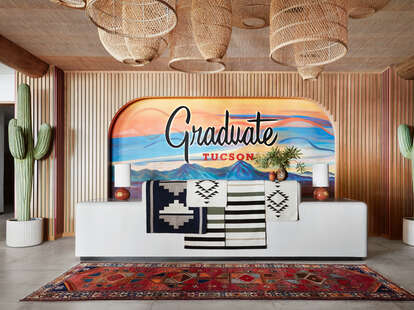 Photo by David Mitchell/Graduate Hotels
Editor's Note:
We know COVID-19 is continuing to impact your travel plans. Should you travel now, be sure to familiarize yourself with the CDC's latest guidance on
domestic
and
international
travel as well as local requirements, protocols, and restrictions for both your destination upon your arrival and your home city upon your return. Be safe out there.
Airfares might be an utter nightmare right now, but at least you can save on your accommodations. Graduate Hotels is celebrating the new season with $30 stays at properties across the US and UK.
The "Summer on Sale" promotion kicks off Wednesday, May 25 at 12 pm EST and runs through May 26 at 6 pm EST, which means you'e got a mere 30 hours to plan your next vacay. The $30 rooms can be booked online for any date through July 31, Travel + Leisure reports.
"As we approach what's expected to be a record setting summer travel season, we're excited to announce that Graduate Hotels is offering a fun and accessible way to hit the road," Graduate Hotels President Kevin Osterhaus told the outlet. "It was important for us to kick off the summer with an offering that encourages adventure and spontaneity at rates that don't break the bank! We're certain that the lucky guests who get their hands on these super affordable rates will have an unforgettable summer taking inspiration from the amazing Graduate communities across the U.S."
The hard part comes in narrowing down your options. There's the hospitality giant's newly-opened Roosevelt Island property, which happens to be the first-ever hotel on the island, or the southwestern-style Graduate in Tucson, Arizona that overlooks the mountains. Of course, if you'd rather head across the pond, the brand's Cambridge location boasts classic English-style writing desks and wood paneling while its Oxford post features a similar charm with carved ceilings and opulent chandeliers.
The Graduate Hotels portfolio includes 32 available locations across the US and UK for the promotion. Meanwhile, the company is set to open three more destinations. Dallas, Texas and Palo Alto, California properties will open in fall 2022, and a Princeton, New Jersey hotel will open in fall 2023. 
Megan Schaltegger is a Staff Writer on the News team at Thrillist.

https://www.thrillist.com/news/nation/graduate-hotels-summer-sale-30-dollar-rooms