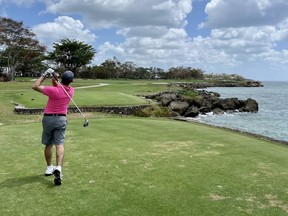 Article content
A skinny strip of sand seems to be all that is keeping the fifth green from simply sliding away into the sea. The bunker is barely big enough for your feet. Behind you, you can reach out and dip your wedge in the ocean. In front of you is the tiny target you just missed from the tee.
Article content
Welcome to Teeth of the Dog.
Article content
Nothing gets a golfer's senses tingling like seaside golf, and Pete Dye's 1971 Dominican Republic masterpiece features the ocean more as a playing partner than a backdrop. With four holes right up against the ocean on the front nine and three more on the back, Dye famously said he created 11 holes at Teeth of the Dog, and God created seven. After a gentle and idyllic opening stretch, golfers reach the short par-3 fifth hole where swimming trunks seem as wise of a choice as golf clubs.
Article content
The sense that you are more than an observer at the Dominican Republic's first and biggest resort likely has to do with the origin of the golf course that put Caribbean golf on the map. More than a half-century ago, and being on an island, Dye eschewed expensive machinery for machetes, oxen-power, and 300 Dominican labourers to see his vision to fruition. The connection between the famous course designer and the resort is well-documented with Pete and his wife Alice having spent plenty of time living in a rather modest island home beside the seventh green. Our caddie for the day at Teeth of the Dog had been at the resort for four decades and pointed out the house, before mentioning that he was Pete's personal caddie for years.
Article content
This scene is played out over and over at Casa de Campo, where you are constantly immersed in the action and feel an unusual sense of history for a Caribbean resort.
Upon checking into the resort in La Romana (a little less than an hour's drive from Punta Cana), guests are given a key to their personal golf cart which gives them plenty of freedom to explore the sprawling resort. Casa de Campo features four golf courses: the famous Teeth of the Dog, the 27-hole Dye Fore, the more resort-style Dye Links, and the private La Romana Country Club.
If you're going to check out the entire resort, you'll be happy to have a golf cart because it seems to be nearly never-ending with venues and activities. The beauty of Casa de Campo is you could make two or three trips and have a different vacation each time. Besides golf, there is a shooting range, equestrian centre, polo fields, a petting zoo, and even an art studio where you can learn to make pottery and other artistic endeavours. A new and updated spa will be opening soon as well.
Although you can easily spend your entire trip on the golf courses and at the 19th hole, there is a yacht club, a small shopping district, a movie theatre, beach clubs, and nearby Catalina Island. One can't-miss spot is Altos de Chavon, a stunning re-creation of a 16th-century Mediterranean village, complete with a 5,000-seat Grecian-style amphitheatre that has seen plenty of stars on its outdoor stage, including Frank Sinatra.
Article content
The Chavon river is the backdrop for Altos de Chavon, offering very different but equally dramatic scenery to the island paradise vibe on Teeth of the Dog or at the beach. The Dye Fore course's Chavon nine showcases the river and the rugged terrain with five cliffside holes featuring 300-foot drops. The wide and rolling fairways and undulation changes gives golfers a bit of a Kapalua vibe.
If the river looks familiar, and a little scary, it's for good reason because it was used in the filming of Apocalypse Now. The resort is a popular spot for movie making, and Jake Gyllenhaal and Conor McGregor were onsite filming the remake of Roadhouse while we were there. (Good luck topping the original, guys.)
There seems to be no shortage of celebrities, as our caddie pointed out a house belonging to Jennifer Lopez, and explained that Pitbull had a few houses as well. Golfers will be more excited to learn that the most interesting man in golf Miguel Angel Jimenez has been spotted booting around the resort in his Mini Cooper. (Now, that would be a sight.)
Article content
The beauty of Casa de Campo is it can accommodate any trip you might be interested in, however big or small. From a romantic getaway, to a wedding, a buddy trip, or a large corporate outing, they have something that makes sense for your group. I toured an eight-bedroom villa with a private pool that can be rented for a group of up to 16, and it would be hard to ask for anything more. With new rooms being completed by year's end, there will be even more options for travellers going forward.
But I was there for the golf, and what I loved most about the resort is that Pete Dye's Teeth of the Dog course was what started it all. What Casa de Campo is today was borne in the vision and passion of a man so dedicated to the game of golf. His meticulous designs are fitfully honoured at a meticulous resort.
For more information on Casa de Campo Resort & Villas please call 800.877.3643, email [email protected] or visit: casadecampo.com.do
https://torontosun.com/sports/golf/golf-travel-take-the-bite-out-of-winter-at-teeth-of-the-dog