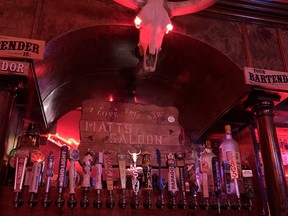 Article content
"If I had invented golf, I would have made the hole a little bit bigger," my playing partner says to me. "Not a lot bigger, just a hair."
Article content
Granted, my new friend — and gambling partner for the day — Jay from Las Vegas has just lipped out a much-needed putt in our match against a pair of his childhood friends, but Jay seems quite serious about his idea to improve the game.
Article content
"I mean, they're pretty small," he says, looking back at the hole one more time.
Article content
It's my sixth day and my seventh round of golf in Arizona on a trip to one of the great golf destinations in America. With my gas tank on empty both literally and figuratively, I'm ending the week at Longbow Golf Club in Mesa, Ariz., where I'm paired with a group of three old friends who have been trading birdies, bogeys, one-liners — and bets — for the past four or five decades.
We'll get back to that in a little while. We might as well start at the beginning.
Article content
The state of Arizona is synonymous with golf. If you haven't been there, you probably know someone who has. In fact, if you play golf you probably know someone who is heading there now to avoid winter.
I walked off the four-and-a-half-hour flight from Toronto and two of the first people I saw were members of my golf club back home. The flight to Phoenix was full of golfers. In fact, judging by all the golf bags at the airport, flights from everywhere were full of golfers.
This was my first trip to Arizona, and the first stop was naturally Scottsdale. With 200 courses in the area, it has a worldwide reputation as a golf mecca. Within minutes of leaving the airport, you find yourself immersed in a desert landscape that a lifetime of Roadrunner and Coyote cartoons can't prepare you for. I've travelled to many corners of the golf world but driving into a postcard of giant cactuses, incredible rock formations, jagged mountain ranges, and canyons was an altogether unique experience.
Article content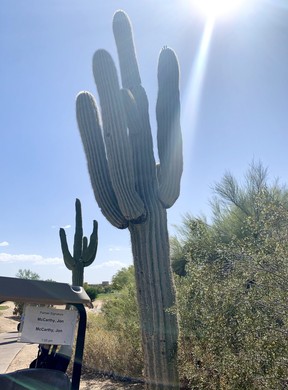 Which brings us to desert golf. It doesn't take long to figure out what makes it so popular. It starts back at home when you're packing your bag and for the first time in golf trip history, you leave every bit of rain gear at home. We've all been duped by weather forecasts before, but a 0% chance of rain for seven days seemed pretty certain. Out on the course, your ball seems to run forever on the very firm but pristine, and green, fairways. The heat is also good for a few extra yards in the air.
I always like to start or finish a golf trip on a good short course if possible, and they are becoming easier to find these days. After spilling out of a plane and into a golf trip, the first thing you want to do is hit the course, but nobody is looking to get beat up out of the gate so a fun par-3 track is ideal.
Article content
The first round of this trip was at The Short Course at Mountain Shadows. I met up with another single player and we each played two balls and my pencil never touched the scorecard. Mountain Shadows is a picturesque design and a great way to wake up the golf muscles, soak in the scenery of the nearby Camelback mountains in the background, and generally feel like a kid goofing around on the golf course again.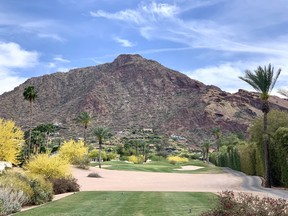 I stayed the first two nights at the JW Marriott Scottsdale Camelback Inn Resort & Spa which is a stunning, sprawling property blending flawlessly with the landscape across 125 acres between Mummy and Camelback Mountains. The Camelback Inn originally opened in 1936 and was a favourite of Hollywood stars. They have a large photo in the lobby of actor Jimmy Stewart, a frequent guest, in line at the buffet.
Article content
The resort has two 18-hole golf courses and a very efficient shuttle system to whisk you off to either course from just outside the resort's main lobby. I played the Ambiente course designed by Jason Straka on behalf of Hurdzan Fry Environmental Golf Design. Michael Hurdzan and Dana Fry designed Erin Hills, site of the 2017 U.S. Open, as well as top Canadian courses Devil's Pulpit and Devil's Paintbrush, now known as The Pulpit Club.
The Ambiente course features a traditional out-and-back links-style routing and the Straka redesign had sustainability in mind, reducing the amount of maintained turf from 210 acres to just 90 acres. The result is a more natural looking golf course with plenty of desert landscape and native wildlife.
Article content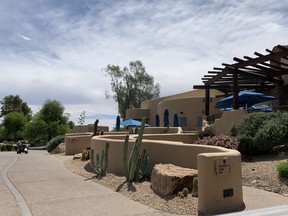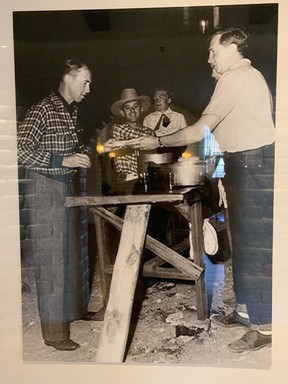 As for the wildlife, I was warned plenty before heading to Arizona, but I didn't see a single thing that could kill me the entire week. My playing partner at Camelback was Ben from the resort who had checked me in a day earlier. Watching him wrestle a shrub looking for his golf ball, I asked if he's seen anything dangerous while playing golf in the state.
"I've only been here six months but I haven't seen a single snake on the course," he said. "I did nearly get killed by a pack of Javelinas."
Excuse me?
"They're like wild hogs, my dog and I stumbled across a pack of them at night. I ran."
The Internet says they aren't exactly pigs or hogs, and they stink, and have sharp tusks. Sounds nice.
One great thing about travelling alone is you are sure to meet plenty of people along the way, and if I were to judge a golf destination by my playing partners, Arizona would score quite well. Ben told me all about his bucket-list golf goal of teeing it up in 100 countries. He's made a list of countries and courses to target and hopes to travel to South America soon to tick a few more boxes.
Article content
My goal for the week was a little more modest, but after two days in Scottsdale it was time to hit the road and head 120 km northwest to Wickenburg, Ariz., to check out Rancho de los Caballeros.
Scottsdale is a modern city that seems to want to maintain its ties to history just enough for some cool guided golf cart tours. Its downtown is an eclectic mix of shops and restaurants, and what impressed me is how easy it was to find great places to eat, and cool breweries and bars to grab a drink. That's not always the case on golf trips.
The mountain road drive from Scottsdale to Wickenburg is a vibe in itself: Turn up the tunes, keep your eyes on the twisty road ahead, and enjoy. Wickenburg is fully engulfed in history, the main drag an homage to its Wild West roots.
Article content
Life slows right down when you check into Rancho de los Caballeros, a 13,300-acre ranch resort, open from October through May. Cellphones aren't allowed in the saloon, and they sell more cowboy boots than golf shoes at the pro shop. With an 18-hole golf course, a horse stable, tennis and pickleball courts, a pool and spa, skeet shooting and archery, you really won't need your phone much. In fact, it's quite refreshing to make conversation with the people at the table next to you instead of scrolling on Twitter.
I spoke with one couple who has been coming to the ranch for the past 50 (!) years. In general, it seemed a very wholesome crowd made up mainly of families and retirees, and the staff was warm and welcoming. I was primarily there to golf though, and what I found at Los Caballeros Golf Club was a course in great condition that is playable for all levels of golfers. I played as a single and instantly fell in love with the tranquillity of the setting. I'm not sure I would have enjoyed my rounds in Scottsdale nearly as much playing as a single, but a solo round at Los Caballeros seemed like a spa day for the golfer's soul.
Article content
I was told before my round to try to be at the 16th green at 4 p.m., and the timing was perfect because minutes after making my putt, a herd of more than 60 horses went by between the 16th green and the 17th tee on their way to dinner.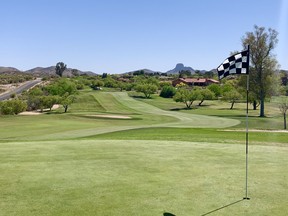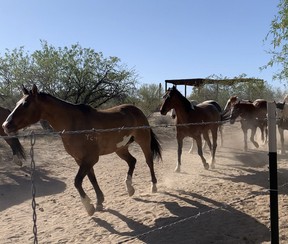 After Wickenburg, I drove to Prescott where golf can be followed by an evening on Whiskey Row, which was developed in 1900 after a fire burnt down the entire block and 40 saloons quickly popped up. There aren't quite that many today, but I tried most of what's left.
Then it was back to Phoenix for a round at another JW Marriott property, the Desert Ridge Resort & Spa. The Palmer Course certainly lives up to all expectations and the Meritage restaurant is a great 19th hole.
The last stop on my packed itinerary was Mesa, Ariz., and a 36-hole day before heading home. Mesa is a large suburb just 20 minutes from the Phoenix airport and would be a great home base for an Arizona golf trip if you aren't living the luxury resort-lifestyle in Scottsdale. I stayed at the new Home2 Suites by Hilton that backs onto Longbow Golf Club and it's a fantastic hotel option in the area.
Article content
My first round of the day in Mesa was at Las Sendas Golf Club, where I instantly noticed a red maple leaf hat with the club's logo in the middle, and asked about it.
"Yeah, our owners are Canadian," one of the pros told me. "From Alberta."
After hearing that, Las Sendas was already in my good books but the course didn't need any favours because it was fantastic. The Robert Trent Jones Jr. design is a big brute of a course, especially from one of the back two sets of tees if you dare. The undulating greens are firm and can be hard to hold and the par-5s are so well-protected you'd think twice about going for the green in two even if you could reach them. It's a wonderful test of golf with incredible views and in immaculate shape.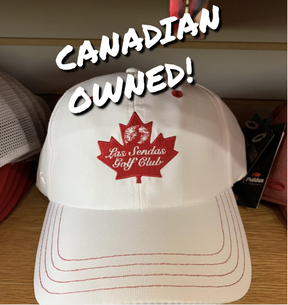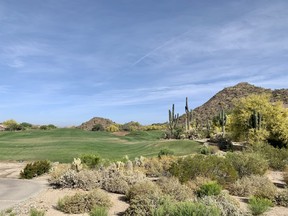 That finally gets us back to Longbow, and back to our pal Jay from Las Vegas, who is now smoking a cigar and phoning ahead to the group in front of us to check on his secondary bet against them. Our group started by playing 4-man skins but after everyone had time to evaluate my game the stakes got raised and we are now playing a straight-up cart vs. cart match with auto presses.
Article content
"I'll take Jon as my partner any day and twice on Sundays," Jay tells his friends, before whispering to me, "I don't really know why they want to bet, we're going to kill them." (We didn't.)
"I've got 180 quips and you're going to hear 90 of them." (I did.)
"Smothered in lobster butter!" (Translation: good drive.)
"Chunky soup, eats like a meal." (Translation: approach shot left short.)
At the end of the round we are a calculator and a set of reading glasses short of figuring out all the team bets and everyone seems to have forgotten about the skins game altogether. It feels like I've known these guys for years because that's what golf is like whether you're in Las Vegas, Toronto, or Arizona.
The sun is setting, there is arguing and laughing, eating and drinking. I drop whatever American money I have left onto the table, say a quick goodbye, and slip across the street to my hotel to get some sleep before my flight home.
https://torontosun.com/sports/golf/golf-travel-one-man-road-trip-teeing-it-up-in-arizona