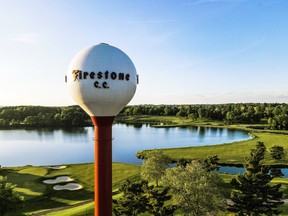 Article content
It wasn't exactly the Shot in the Dark, but my thinned 7-iron found its way to the green at Firestone South's 18th hole as dusk settled in Akron, Ohio, and was enough to win the saddest of closest to the pin competitions.
Article content
Dinner was over, and our small group of golf writers had been invited to recreate Tiger Woods' iconic shot from the 2000 World Golf Championship — NEC Invitational. Thankfully, we had a little more light than Woods had when he hit perhaps the most famous shot of his most famous golf season. But we also had two decades of growth on the two towering trees framing the closing hole at Firestone's signature course to deal with. A great number of trees have been removed from the sprawling golf mecca which has opened up incredible panoramic views of the club's three private courses and the popular nine-hole public course, but the two trees — one left, one right — of the 18th green of the South Course are taller than ever, showing the passage of time since Tiger's historic shot.
Article content
Woods' Shot in the Dark came one week after winning his third consecutive major championship of the 2000 season and a visit to Firestone instantly brings memories flooding back for golf fans. Woods won eight times at Firestone, which was also the site of Jack Nicklaus' 1975 PGA Championship win. History is never far away at this private club established by Harvey Firestone nearly a century ago. With many golf clubs and resorts moving into lifestyle brands with something for everyone, Firestone keeps it simple, this is a place for golfers. It can be seen in the history on the walls of the clubhouse, in the caddie program, and in the fabulously classic locker room with wooden panels, wooden lockers, and a bar that stays open until midnight. Behind the bar, on any given evening, you'll be served a drink by Fuzz who has been there for nearly four decades and has endless stories about your favourite professional golfers.
Article content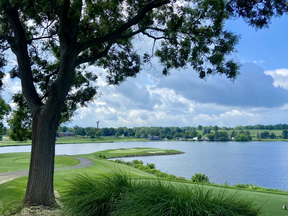 We stayed the first night of our late summer trip in the newly refreshed rooms located right inside the locker room, which is great for spilling out onto the golf course after waking up from a late night of storytelling.
While most golf fans are familiar with Firestone as a longtime PGA Tour venue the current home of the Senior Players Championship, the private club also offers stay-and-play opportunities for golf trips. In these days of airport woes, readers in the Toronto area should know that Firestone is a five-hour drive from home. I left my house at 8 a.m. and made my 2 p.m. tee time without any worry.
Article content
Our three-day and two-night trip gave us time to play all three courses. The beautiful parkland atmosphere will feel familiar to many Canadian golfers and the conditions across all of the courses are impeccable and will impress even the most discerning of golfers. We began our trip on the Fazio Course which, offering the most resort-like conditions of the three, is a great place to start a trip. Tee-to-green the course is relatively forgiving with most of the challenge coming from the tricky Tom Fazio greens. The North Course was described to us as the members' favourite, although, in my opinion, if the wind is up it could be the hardest of the three with water hazards everywhere. Members at Firestone must get a good deal on golf balls. The famous South Course was my personal favourite, offering a familiar challenge after seeing it on television for years. The rough is difficult as expected, but the course moves left and right more than I thought. Besides opening up visual corridors and beautiful vistas, the removal of trees affords the opportunity for golfers to get out of trouble nearly as easily as they got into it. Tree-lined courses with ample exit strategies from the rough makes for fun shotmaking.
Article content
Since most visitors will be spending nearly all their trip onsite, great food is a must, and Firestone delivers. From the must-have Burger Dogs at the turn, to the 1929 Grille, the 55th Hole, or the La Vetta Italian Chophouse, everyone will leave the table satisfied. Make sure to save room for the Crunchy Cream Pie. Jack Nicklaus once sent his private jet to pick up 30 of Firestone's famous dessert.
If you've got a couple of foursomes from your club or golf group looking for a weekend getaway in 2023, Firestone also offers villas complete with great common rooms featuring pool tables, poker tables and full kitchens. If you and your friends are golf nuts like me you won't see much need in leaving the property, but a day trip to the nearby Pro Football Hall of Fame in Canton is worth your time. There is also a new 22,500-sq/ft. Big Shots range and entertainment centre to enjoy in the evenings or in case of a downpour.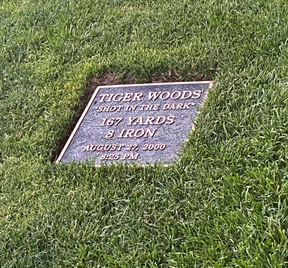 General Manager at Firestone Jay Walkinshaw spent more than a decade in Canada at the National Golf Club so Canadians can expect a warm welcome. I'm pretty sure I spotted him checking out the Ontario plate on my car as he strolled through the parking lot.
Flying off to discover world class golf is every golfer's dream, the only thing better these days is being able to find it by hopping in the car.
https://torontosun.com/sports/golf/golf-travel-firestone-knows-exactly-what-golfers-want