Britney Spears has jetted off for a sun-kissed vacation with her fiancé, Sam Asghari, as they celebrate his upcoming birthday.
The couple, who announced their engagement in September, shared a series of videos on their respective Instagram accounts that showed them in a range of passionate displays from their private jet to their secluded swimming pool.
Their series of clips kicked off with Spears, 40, sharing footage of Asghari, who turns 28 on March 4, kissing her sparkling engagement ring as they sat on their plane, heading for an undisclosed location.
"May the birthday celebrations begin for my wonderful fiancé … I love him so much !!!" Spears wrote in an accompanying caption. "My hero … my mentor … my rock … my bliss … my love !!! I hope you get everything and more for your birthday."
"It's on the right hand because we don't follow rules!" Asghari wrote in the comments section as he explained the placing of his fiancée's ring.
"Also not [used] to this bougie ass coffee," he added in reference to the beverage he was seen sipping on the flight. "I like the economy seats much better."
Things were notably more tactile on Asghari's Instagram feed, where he shared a clip of the "Toxic" singer licking the inside of his ear as they flew together.
On reaching their destination, Iranian-born Asghari uploaded a video of himself and his bride-to-be kissing and embracing in a private swimming pool surrounded by palm trees.
Captioning the clip, Asghari referred to the mother of two by his nickname for her, as he wrote: "Island love with the lioness @britneyspears."
In early December, the couple enjoyed a similarly luxurious break together, when they jetted off to celebrate Spears' 40th birthday in grand style.
That vacation proved to be an all the more celebratory occasion as the 13-year conservatorship that Spears had fought to be freed from was officially dissolved by a judge weeks earlier on November 12.
The arrangement—which was implemented in 2008 amid mental health concerns—saw Spears' personal and financial decisions taken out of her hands. Her father, Jamie Spears, oversaw the personal and financial arms of the conservatorship.
Citing health reasons, Jamie Spears stepped down from the personal branch of the arrangement in 2019, continuing to oversee his famous daughter's finances. He was suspended from the conservatorship in September, amid accusations of misconduct—allegations that he denies.
Back in June, Britney Spears alleged in an explosive court testimony that she was made to perform, take medication and wear a contraceptive device against her will.
The singer, who has two sons—Sean Preston, 16, and Jayden James, 15—with her ex-husband, Kevin Federline, at the time expressed a desire to have another child.
Asghari, who met Spears on the set of her "Slumber Party" music video back in 2016, echoed that desire in an interview with Forbes back in March 2021.
"My priorities in life are to remain humble and understand where I came from and where I'm going," he said. "I want to take my career to the next step when it comes to acting. I want to take my relationship to the next step, as well. I don't mind becoming a father. I want to be a young dad."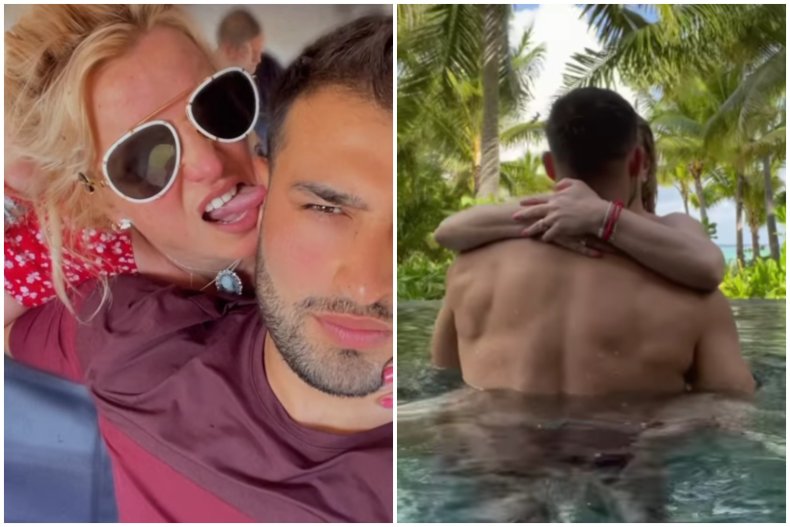 https://www.newsweek.com/britney-spears-sam-asghari-share-romantic-videos-birthday-vacation-1683231