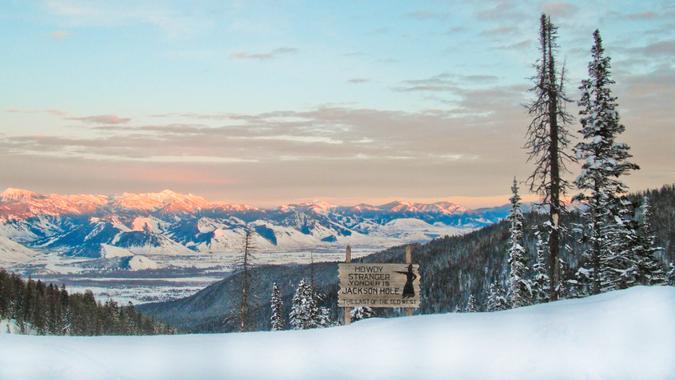 TenleyThompson / Getty Images/iStockphoto
The winter season at ski resorts across the country is winding down, while spring and summer resorts are starting to gear up for the upcoming change in weather. That timing can be advantageous for travelers, as even the most expensive resorts have some decent deals that could save you a bundle.
Travel Prep: 10 Financial To-Dos Before Going on a Trip
Explore: Cheap Places To Travel On $100 a Day Or Less
Even if you're not a skier or snowboarder, ski resorts typically offer something for everyone: a spa, other outdoor activities, and a ski lodge with a huge fireplace — ideal for sipping Irish coffee with friends. And if you're not a winter weather person at all, the beach town or desert resorts provide travelers with shopping excursions, hiking and sightseeing opportunities when it's not quite warm enough for time in the sun.
All that makes March an ideal time for an adventure at a reduced cost in the 'tweener season. We priced four- or five-night excursions on weeknights in March in some of the priciest places in the United States to see what values you can find now. Many of them offered a free night if you stay multiple nights — especially on weekdays — or other extras, and when rooms are in the hundreds of dollars a night, one freebie helps. The prices include taxes and resort fees, which add up fast. Check it out.
Coeur d'Alene, Idaho
The VisitNorthIdaho.com site describes Coeur d'Alene perfectly: "The playground of the Pacific Northwest," and a place with "five-star amenities in a rugged setting." Take in the downtown or walk along Tubbs Hill Trail. There are plenty of winter activities that don't involve skiing, too. The Coeur d'Alene Golf & Spa Resort offers its Hot Winter Nights special through March.
Cost: Four nights — $1,130.
Learn: How To Not Lose Money on Canceled Spring Break Trips as COVID Refunds Fade
Teton Pines in Jackson Hole, Wyoming
The Jackson Hole area offers a variety of late-winter things to do for the non-skier: snowmobiling, eco tours, hiking, stargazing and more. In 2019, Forbes named it the top ski resort in North America. The Teton Pines resort offers three-bedroom units that are perfect for the trip. Ask when you book a room whether there would be an extra per-person fee if you bring friends to make this more affordable.
Cost: Five nights at a Teton Pines townhome — $2,179
Park Hyatt Aviara Resort in Carlsbad, California
Carlsbad, north of San Diego, has budget-friendly hotels but also some lovely resorts. Expensive at full price, you might luck into a special, such as buy three nights and get one free. In Carlsbad, take in the spas, breweries, luxury shopping or the outlets and, of course, the beach.
Cost: Four-night stay at the Park Hyatt Aviara Resort, Golf Club & Spa: $2,378
Killington Grand Resort in Killington, Vermont
If you're a New Englander or New Yorker looking for one last ski trip of the season — or just a snowy getaway — you'll find a deal at the Killington resort area. Visit midweek and stay for three, four or five nights, and you'll get a free night of lodging and a discount on lift tickets. If you don't ski, get the works in the spa, then visit the Wobbly Barn — the area's steakhouse and nightclub.
Cost: Four nights at Killington Grand Resort — $1,127
Find: The 10 Best Places To Travel for Foodies on a Budget
The Flamingo in Las Vegas
Las Vegas is the ultimate winter getaway. There won't be snow on the ground, and the desert heat won't have made its appearance yet. Spend time indoors at the shows or the casino, or head outdoors for gold or an adventure tour at a scenic vista. With about 143,000 hotel rooms in the city — and many of the properties having a resort feel — you'll have a ton of options. Many hotels offer a discount if you stay three or more nights, too.
Cost: Four nights at the Flamingo Las Vegas Hotel & Casino — $235
Radisson Hotel in Miami Beach
A visit to Miami in March can yield some lodging deals at even the priciest beachfront resorts and area hotels, and there's plenty to do to keep you busy for a getaway. Start with the famous Miami beaches in the morning and end the day at some of the city's legendary nightlife spots, from South Beach to Little Havana.
Cost: Four nights at the Radisson Hotel Miami Beach — $1,178
See: 6 of the Best Cruise Itineraries for Travelers on a Budget
Breakers Resort in Myrtle Beach
Concerts, golf, shopping, parks, day trips to Charleston. They're all things you can do in Myrtle Beach, a popular winter destination, and some hotels offer discount packages for multi-day stays. And while it might be too chilly to swim in the ocean in March, there's nothing like sipping a drink at a waterfront restaurant.
Cost: Four nights at The Breakers Resort — $695
Hotel Zoso in Palm Springs
Escape the cold with a trip to Palm Springs, the ultimate in cool winter resort destinations. Many hotel properties offer savings of up to 30% if you stay Monday through Thursday. Also, ask about packages that offer discounts on some of the area's destinations — there are more than 110 golf courses and lots of spas, to start — or the amazing food scene.
Cost: Four nights at the downtown Hotel Zoso — $1,179
More From GOBankingRates
https://www.gobankingrates.com/saving-money/travel/winter-destinations-offering-great-deals-before-spring-non-skiers/