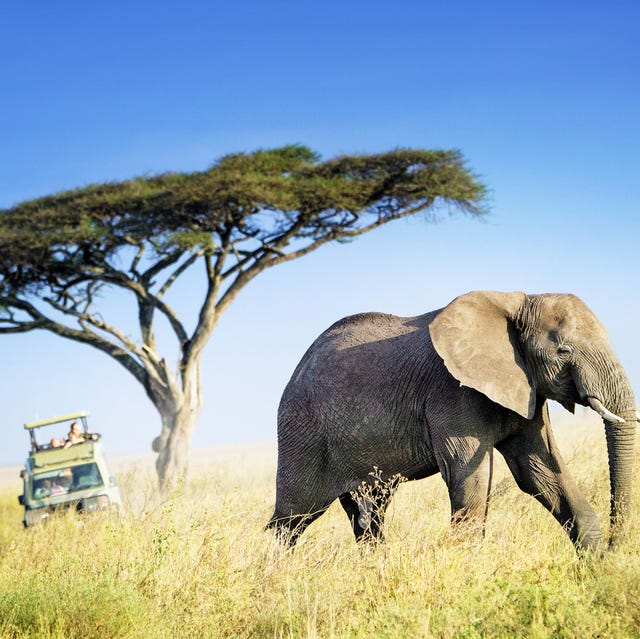 Vicki Jauron, Babylon and Beyond PhotographyGetty Images
Travel is back—if you hadn't noticed. After two years of pandemic-related closures and limitations, luxury travelers led the industry back to levels already surpassing those of 2019, according to global travel agency network Virtuoso."Travel sales are pacing 47 percent higher in 2023 than in 2019, and that was a highwater year for travel," says Misty Belles, vice president of global public relations at Virtuoso. And, according to Belles, travelers are ready and willing to spend more in 2023 to discover new experiences and share them with family and friends. "Nearly three quarters of Virtuoso travelers tell us that creating a travel experience that best fits their expectations is more important than price," she says, noting that travelers plan to increase their previous year's spend of $20,700 per person to $27,800 in 2023. It's an exciting world out there, from returning to the Caribbean this festive season to planning major trips to Europe, South America, Asia, and Africa in the new year. Here, according to Virtuoso travel advisors, are six of the biggest travel trends for 2023.
Advertisement – Continue Reading Below
1
Japan, Italy, and Other Trending Destinations
"Japan!" says Jack Ezon, founder and managing partner at New York-based Embark Beyond, when he considers 2023's hottest destinations. "Pre-COVID it was on one of the steepest growth trajectories; now people are clamoring to return," he says, adding that one of the world's hottest ski destinations for 2023 is Niseko on the country's north island of Hokkaido.
Also hot: "Italy beyond the obvious," he says: "Look at the regions of Piedmont, Veneto, and Emilia-Romagna to pop up as the new Tuscany, fueled by great new properties like Casa di Langa." Ezon also names Montenegro back on the hot list, thanks to the new One&Only Portonovi drawing eyes (and yachts) to this corner of the Med, Peru trending for foodies and outdoor adventurers, Tanzania topping safari destinations, and the beautiful new Kisawa Sanctuary pulling focus to Mozambique as "the post-safari retreat du jour."
2
The Rise of Solo Travel
When it comes to grown-up luxury travelers, the allure of going solo has never been greater. Virtuoso recently reported that among its travelers aged 65+, interest in single travel went from 4 percent in 2019 to 18 percent in 2022. And the offerings for solo explorers just get better and better, whether it's the Solo Package (literally!) at Gili Lankanfushi in the Maldives or a regenerative weekend of yoga, sound baths, hydro therapies, spa treatments, and more at Shou Sugi Ban House in the Hamptons.
3
Private Yachts Seas the Day
While a boat of one's own (even if for only a week) has always been a hallmark of luxury travel, the world of private yacht excursions has never been more creative—or alluring. Cases in point: Kontiki Expeditions' superyacht plying the Ecuador coast, and EYOS Expeditions, which offers superyacht excursions in Antarctica.
"Many people just didn't realize it was possible to go to Antarctica via a private yacht," says EYOS CEO Ben Lyons, "but it has travelers thinking how they can experience a destination in new ways," including a fully customized experience and a boatload—as it were—of privacy.
For those who prefer their adventure in a glass, Belmond will debut Coquelicot, A Belmond Boat, Champagne in May 2023: a restored river barge plying the region's waterways in partnership with Maison Ruinart, the world's oldest Champagne house. On offer: a weeklong private charter starting at €82,000 (approximately $79,500).
4
Embracing the Off Season
After the pandemic travel pause, the surge in luxury travel to beloved destinations like the Amalfi Coast and Greece pushed demand into the shoulder seasons like never before, and hotels responded by opening earlier in the spring and welcoming guests often all the way to Christmas—a move that seems to be sticking.
"At first, travelers were so anxious to get back out there as soon as destinations were opening up, they were ready to go right away, even if it wasn't the typical season for that destination," says travel advisor Beth Washington, founder of Washington, D.C.-based travel agency Getaway Guild.
Washington points also to African safaris now stretching beyond classic seasons of winter for South Africa and July through October travel for East Africa: "Travelers can have wonderful game viewing on safari most of the year if you work with a safari specialist," she says. If the pandemic taught us anything, Washington says, "it's that the ability to travel is not promised, and there is no time like the present to take that dream trip rather than wait for peak season."
Travel centered around art is poised to replace culinary travel as a leading luxury travel trend, says Jack Ezon, who points to Arles, Berlin, Havana, Paris, Milan, Miami, Mexico City, Marfa, Cape Town, and Marrakech as top destinations.
And the hotels! Airelles Le Grand Contrôle recently opened in the heart of France's Château de Versailles and offers private tours and exclusive access to the Domaine de Trianon and the gardens. In the Scottish highlands, the Swiss gallerists Manuela and Iwan Wirth have created a stunning hotel-gallery hybrid at The Fife Arms (including more than 14,000 works including high-impact Picassos, Freuds, and Richters). In Marrakesh, Royal Mansour offers guests complimentary tickets to the stunning Musée Yves Saint Laurent Marrakech. And creative art partnerships are the new Michelin-starred chef: In Italy, Belmond has joined with acclaimed Galleria Continua to create MITICO, four garden-based art installations (including Cameroonian artist Pascale Marthine Tayou's stunning Les Routes du Paradis at Grand Hotel Timeo on Sicily) that will return anew in 2023. "Whether it's cities with art festivals, cities with an art scene, or art shopping trips," sums Ezon, "art is definitely the new food."
While solo travel is surging, particularly for the 65+ set, creative getaways for groups is top of mind at myriad luxury destinations, particularly among younger travelers (according to Virtuoso, solo travel interest among the 18-34 set dropped from 12 percent in 2019 to 6 percent in 2022).
"Beyond multi-gen trips, people are flocking around the world in groups," says Ezon. "Groups of ladies. Groups of guys. Groups of a half dozen couples. Friends who like botany, fitness instructors bringing their fans to some remote place for fitness. Divorced ladies out for revenge. You name the affinity; people are traveling together. We are even seeing five and six families traveling together." With a surge in villa offerings at hotels and resorts as well as private yacht charters, it's never been more easier—or more fabulous—to gather together, the world over.
Advertisement – Continue Reading Below
https://www.veranda.com/travel/g41996375/travel-trends-2023/